Monitoring infectious diseases among migrants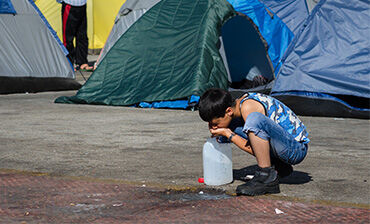 Background
Migration flows to and within Europe are having an increasing effect on demographic change in the European Union (EU). According to Eurostat, there were 34.3 million people born outside of the EU-28 living in an EU Member State on 1 January 2015, and there were 18.5 million people born in a different EU Member State from the one where they were resident. Although the majority of migrants are healthy, they can bear a disproportionate burden of some infectious diseases, including TB, HIV and hepatitis B.
It is important to note that migrants are a very heterogeneous group and some migrant populations appear to be more vulnerable to specific infectious diseases. These differences reflect a complex set of factors including migration patterns, the demographic profile of migrants, experiences during migration, high-risk behaviour, patterns of disease in migrants' countries of origin, the trauma that can be associated with the causes of migration, disruption of health services, including to immunisation, in the country of origin, and access to health services in the host country. 
The issue of migration into and within Europe and its implications for public health was put on the European agenda during the Portuguese Presidency of the EU Council in 2007 which culminated in the Council Conclusions on Health and Migration in the EU, December 2007, and highlighted the link between the health of migrants and that of all EU citizens. The issue has also come into sharp focus following the refugee crisis in Europe that started in 2015.
Since 2007, ECDC has produced a number of technical reports on issues around migrant health and infectious diseases.
ECDC collaborates with the European Commission, Member States, the World Health Organization (WHO), the International Organization for Migration (IOM) and other partners.
Page last updated
15 Jun 2017