COVID-19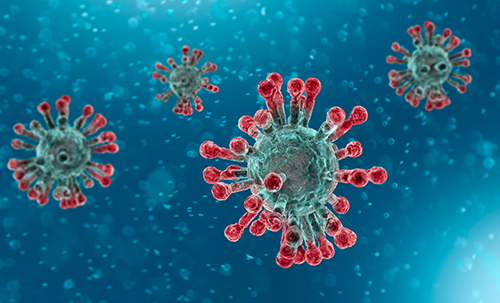 COVID-19, the illness caused by SARS-CoV-2, emerged in late 2019 and spread very quickly across the globe. Within the first two years of the COVID-19 pandemic, more than 450 million cases were reported worldwide, more than 100 million in the EU/EEA alone. 
SARS-CoV-2 is mainly spread via respiratory droplets, including aerosols, from an infected person who sneezes, coughs, speaks, sings or breathes in close proximity to other people. Droplets can be inhaled or deposited in the nose and mouth or on the eyes.
Symptoms of COVID-19 can vary in severity from none at all (asymptomatic) to:
fever
cough
sore throat
general weakness, fatigue and muscle pain
loss of smell and taste.
The most severe cases can lead to shortness of breath due to pneumonia and acute respiratory distress syndrome, as well as other complications, potentially leading to death.