Chikungunya worldwide overview
Situation update, 23 August 2023
In 2023, and as of 23 August, approximately 320 000 cases and over 340 deaths have been reported worldwide. A total of 20 countries reported CHIKVD cases from the Americas (14), Asia (4), and Africa (2). 
The majority of countries reporting high CHIKVD burden are from the Americas and are located in South and Central America. 
CHIKVD associated deaths were reported from: Paraguay (271) and Brazil (69)
Countries with most cases
Brazil, Paraguay, Argentina, Bolivia, Peru
Cases in continental Europe
No locally acquired cases in continental Europe in 2023
Very low risk of transmission in continental Europe
environmental conditions are not favourable to vector activity and virus replication
Three month Chikungunya virus disease case notification rate per 100 000 population, May - July 2023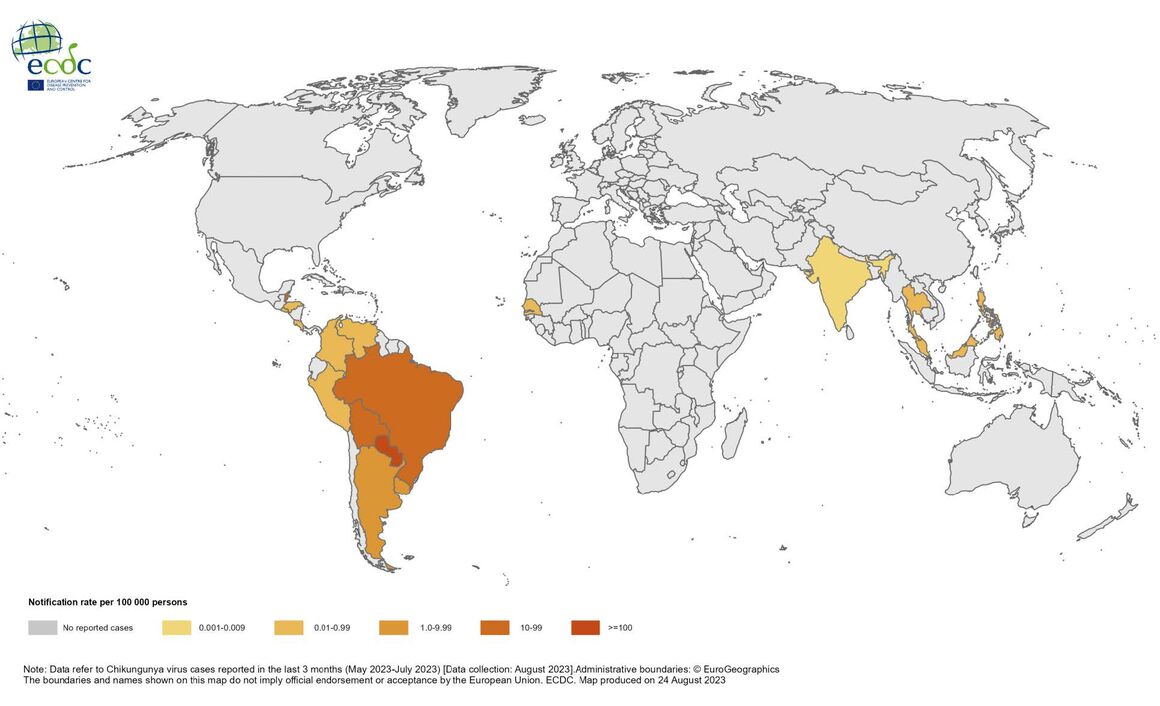 Detailed overview
Europe
No autochthonous cases have been reported in Europe in 2023.
Americas and the Caribbean
Countries reporting highest number of cases were: 
Brazil (209 489)
Paraguay (110 826)
Argentina (1 653), 
Bolivia (1 311)
(337). 
Asia
CHIKVD cases were substantially reported in Asia from:
Thailand (821)
the Philippines (766)
Africa
Two African countries reported CHIKVD cases in 2023: 
ECDC assessment
Chikungunya virus disease and dengue affect people in most countries of the tropics and sub-tropics. 
EU/EEA citizens travelling to the affected areas should apply personal protective measures against mosquito bites. 
The likelihood of onward transmission of dengue and chikungunya virus in mainland EU/EEA is linked to importation of the virus by viraemic travellers into receptive areas with established and active competent vectors (e.g. Aedes albopictus and Aedes aegypti).
 Aedes albopictus is established in a large part of Europe. 
Aedes aegypti is established notably in Cyprus, around the Black sea and in the outermost region of Madeira. 
The current likelihood of the occurrence of local transmission events of chikungunya and dengue viruses in areas where the vectors are present in mainland EU/EEA is high, as the environmental conditions are favourable for vector activity and virus replication in vectors. In 2023, locally-acquired dengue cases been reported in France and in Italy.
All autochthonous outbreaks of CHIVD and dengue in mainland EU/EEA have so far occurred between June and November.
Disclaimer: The data presented in this report originates from both official public health authorities and non-official sources, such as news media. Data completeness depends on the availability of reports from surveillance systems and their accuracy, which varies between countries. All data should be interpreted with caution and comparisons, particularly across countries, avoided, due to under-reporting, variations in surveillance system structure, varying case definitions between countries and over time, and use of syndromic definitions.