Guidelines for the implementation of non-pharmaceutical interventions against COVID-19
Page last updated: 23 November 2021

Non-pharmaceutical interventions (NPI) are public health measures that aim to prevent and/or control SARS-CoV-2 transmission in the community. After vaccination, NPIs are the most effective public health interventions against COVID-19. These ECDC guidelines detail available options for NPIs in various epidemiologic scenarios, assess the evidence for their effectiveness and address implementation issues, including potential barriers and facilitators. Further ECDC guidance related to the use of NPIs can be found in the below list. These can be of support when looking to tailor NPIs to the epidemiological situation as well as level of vaccination coverage in a population.
Executive summary
General considerations on NPI to control COVID-19
NPI have played a critical role in reducing transmission rates and the impact of COVID-19 in the European Union, European Economic Area (EU/EEA) and United Kingdom (UK). Until a safe and effective vaccine is available to all those at risk of severe COVID-19 disease, NPI will continue to be the main public health tool against SARS-CoV-2.
Most NPI can have a negative impact on the general well-being of people, the functioning of society, and the economy. Therefore, their use should be guided by data on the local epidemiological situation, with the overall goal of protecting the most vulnerable individuals in the society.
Specific recommendations to protect the most vulnerable include enhanced surveillance, comprehensive testing, and intensified infection prevention and control practices in settings that host high-risk individuals, such as long-term care facilities.
In countries/regions/municipalities/communities where sustained control of SARS-CoV-2 has been achieved, as documented by comprehensive surveillance, NPI can be relaxed, allowing society to function almost normally. Under the current exceptional circumstances, imposing travel restrictions on those coming from countries or areas that have not yet achieved transmission control will probably make a meaningful difference to the SARS-CoV-2 epidemiology within the population.
In countries/regions/municipalities/communities that experience community transmission, the authorities should ensure that personal NPI are understood and correctly applied by the population. This includes maintaining physical distance in all settings, hand hygiene and respiratory etiquette, and the wearing of face masks when physical distancing cannot be guaranteed. The use of face masks is recommended both indoors (e.g. supermarkets, shops and public transport) and in crowded outdoor settings. In addition, use of face masks should be strongly recommended for groups at risk of developing severe complications if infected (e.g. individuals in older age groups or with underlying conditions) and for those whose occupations bring them into extensive face-to-face contact with the public when there is ongoing transmission.
Decision-makers responsible for implementing population- and/or environmental-level NPI, either at local or national level, should consider the advice/evidence below when deciding on the combination of measures.
Considerations in the event of community transmission
During the SARS-CoV-2 community transmission phase, the following interventions may be considered, irrespective of incidence level.
Promoting and facilitating physical distancing in all settings is an effective NPI to reduce the levels of SARS-CoV-2 transmission in the community.
Advising the population to voluntarily self-isolate if experiencing COVID-19 compatible symptoms is an essential measure for reducing the number of secondary infections. This should be linked to easy access to testing and rapid contact tracing, testing of high-risk contacts irrespective of symptoms, and the quarantining of contacts.
Advising the population to consistently meet with the same people in 'social bubbles', whether friends or co-workers, can allow for a greater degree of contact between people, while still minimising the risk of SARS-CoV-2 transmission and associated outbreaks.
Limiting the size of indoor and outdoor gatherings decreases the likelihood of SARS-CoV-2 spreading to large numbers of people. Such a measure is more effective if implemented consistently, even for relatively small gatherings (e.g. >10 individuals). Additional organisational measures such as event cancellation, postponement or re-arrangement should be considered, depending on the underlying epidemiological situation.
Promoting teleworking where possible can reduce the risk of outbreaks in the workplace.
Closing selected businesses, such as places where people have limited possibility for physical distancing, could be more effective than closing all businesses, and therefore is a possible option for reducing transmission while avoiding large-scale economic and social impact.
Proactive school closure is not recommended as an effective COVID-19 containment strategy at this stage as there is currently little (and conflicting) evidence on the effect it has on SARS-CoV-2 transmission in the community. Firstly, children (18 years and younger) mostly experience a benign clinical course of COVID-19 and do not seem to have been the main vector of SARS-CoV-2 in the community. Secondly, because the impact of school closure on children's education, families' economies, and on society as a whole is significant and well-documented.
Environmental measures, such as regular cleaning of frequently-touched surfaces and appropriate ventilation of indoor spaces, can lower the risk of disease transmission in the community. Such measures are particularly relevant in healthcare settings to reduce nosocomial transmission and infection of healthcare workers.
Considerations in the event of widespread transmission
During widespread transmission of SARS-CoV-2, when hospitalisation rates, ICU admissions, and/or mortality is increasing, in addition to the NPI above, the following stricter measures can be considered. 
Stay-at-home measures are a last-resort option due to their significant impact on both society and individuals. Targeted implementation, both geographically and temporally, is preferred and can be considered to control outbreaks which are not responding to other measures. Available evidence does not prove that stay-at-home measures are more effective than other measures, such as the closing of (some) high-risk businesses.
Population-wide testing strategies (testing all individuals, irrespective of symptoms) may be appropriate in local settings with high incidence. Such an approach would enable public health authorities to identify most of the infectious COVID-19 cases at a given point in time (e.g. including pre-symptomatic, pauci-symptomatic, and asymptomatic cases), allowing for their prompt isolation and the interruption of transmission chains. However, the effectiveness/cost-effectiveness of this approach remains unknown and should not compromise the accessibility or timeliness of testing for those who are symptomatic. Without timely analysis and notification to isolate cases, population-wide testing alone would not be effective in reducing transmission.
Reactive closures of schools may be necessary as a consequence of widespread virus transmission in the community and educational settings. Reactive school and day-care closures will probably not reduce the impact of the epidemic, but may be necessary due to high absenteeism and operational issues, especially if the spread of SARS-CoV-2 coincides with the ongoing influenza season in an EU/EEA country.
Addressing NPI compliance
Support for NPI has varied considerably across countries and in different population groups within the same country: what works to promote safe behaviour in one city, country, culture, or population may be ineffective or otherwise sub-optimal in another. Several EU/EEA countries have therefore been working to incorporate behavioural insights into their COVID-19 response work, using ongoing assessments of public attitudes, behaviour, and beliefs within their own populations. Innovative means have also been developed for collecting anonymised, aggregated data on people's movements, which can act as a proxy for compliance with measures (e.g. stay-at-home measures).
While there is no 'one-size-fits-all' approach to promoting NPI compliance, there are nonetheless some key principles that can be applied in all settings, as defined in various theories of behaviour change. The COM-B model is one such theory, based on the common-sense idea that a given behaviour occurs when both the capability and opportunity are present, and when the individual concerned is more motivated to adopt that behaviour than any other. Systematically applying such models can optimise the effectiveness of strategies promoting NPI.
Download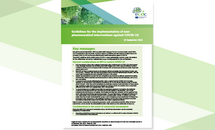 Relevant ECDC guidance documents
General
Please access ECDC's rapid risk assessment related to COVID-19 for "options for response" related to the most recent epidemiological situation and/or for specific settings (e.g. long-term care facilities). ​​​​​​
Individual level
Respiratory hygiene, hand hygiene, and PPE
Environmental level
Environmental cleaning
Population level
Limiting physical inter-personal interactions
Shielding of medically- and sociably-vulnerable populations