Microbiology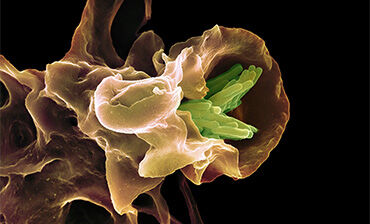 In order to manage infectious disease threats, ECDC supports and develops microbiology capacity within the EU/EEA for the timely and accurate detection and characterisation of infectious agents. To this end, ECDC facilitates cooperation between expert and reference laboratories through networks such as the European Reference Laboratory Network for TB (ERLTB-Net), launched in 2010. The network supports countries in the provision of reliable and timely diagnostic services by synergising efforts across the EU/EEA and acting as a platform for knowledge exchange.
Molecular typing is crucial for investigating tuberculosis (TB) transmission and outbreaks. Whole genome sequencing (WGS) enables transmission routes to be traced and emerging tuberculosis clones and cross-border clusters to be rapidly identified. In addition it can provide information about drug resistance.
ECDC has initiated a pilot project, running from 2017–2020, on the use of WGS for molecular typing and characterisation of Mycobacterium tuberculosis in the EU/EEA. The project will generate evidence from across the EU/EEA on the utility of WGS for examining strain diversity, characterising emerging clones, detecting and tracing outbreaks early on and mapping transmission routes of multidrug-resistant and extensively drug-resistant tuberculosis (M(X)DR TB). The project aims to assess the usefulness of genomic-based typing as the reference method for M(X)DR TB surveillance within the EU/EEA. It will allow Member States that do not yet have capacity for Mycobacterium tuberculosis WGS to freely access the technology by liaising with institutes and reference centres that have robust experience on WGS typing.
External quality assessments
There are currently no items to display