Joint WHO/ECDC influenza virus characterisation report, summary of TESSy virus characterisation data 2017/18
Summary of influenza virus characterisation data reported by national influenza centres to The European Surveillance System (TESSy) for weeks 40/2017 to 20/201820/2018.
Download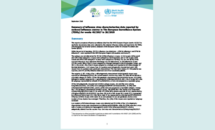 Read more on the ECDC website
Influenza Virus Characterisation Reports, summary Europe
The influenza virus characterisation reports give an overview of circulating influenza viruses in Europe. They provide details on the current vaccine strains, summarise the development of the viruses since the last report, and closely follow the main developments for the ongoing influenza season.
See all Influenza Virus Characterisation Reports
See all updates on influenza