Ebola virus disease outbreak, North Kivu and Ituri Provinces, Democratic Republic of the Congo - 2018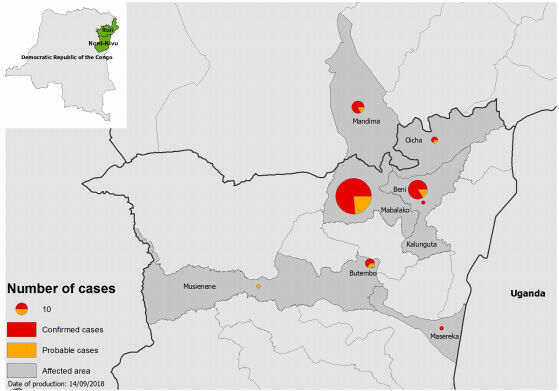 Last updated: 21 Sep 2018
On 1 August 2018, the Ministry of Health of the Democratic Republic of the Congo (DRC) declared the 10th outbreak of Ebola virus disease in the country, affecting North Kivu and Ituri Provinces in the northeast of the country, close to the border with Uganda. The situation has the potential for new chains of transmission if not rapidly controlled: 
Cases in the city of Butembo are of concern as there are more than 1 million inhabitants and it is a commercial and travel hub, linking the affected areas to other regions in the DRC and several neighbouring countries (e.g. Rwanda and Uganda).
The situation is aggravated by the displacement of people due to conflict and crisis. The security situation and humanitarian crisis in North Kivu Province poses a challenge to the implementation of outbreak control measures.
The risk of spread to the EU via an infected travellers is currently considered very low, states the latest ECDC risk assessment.
One urban area affected
The city of Butembo has more than 1 million inhabitants and is a commercial and travel hub between the DRC and Uganda
143 cases and 97 deaths
since the beginning of the outbreak, of which 6 additional cases in the past week
Very low risk of spread to the EU
The risk of introduction via an infected traveller is very low