Ebola outbreak in the Equateur Province, Democratic Republic of the Congo (DRC) – 2018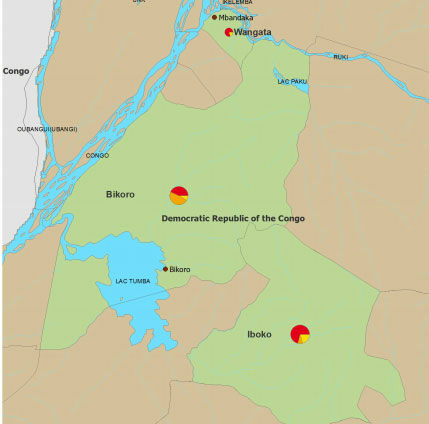 An Ebola virus disease (EVD) outbreak is ongoing in the Equateur Province, DRC. 
50 cases including 22 deaths were reported as of 31 May 2018 - in Bikoro, Iboko and Wangata.
The outbreak is not unexpected, since it is in a recognised area of Ebola virus circulation. However, the proximity of the Congo River and the cases in Mbandaka (a city of 1.2 million people) increase the risk of the virus spreading to neighbouring countries.
The risk of introduction to the EU and the risk of EU travellers/residents in DRC getting infected is considered very low.  
One affected urban area
Confirmed cases were reported in Mbandaka - a city of 1.2 million people
Very low risk to travellers to DRC
Travellers to affected areas should follow precautions.
Very low risk of spread to the EU
Most cases are in remote areas and the magnitude of the outbreak is limited.