Annual meeting of the Technical Advisory Committee for the European Antibiotic Awareness day (EAAD)
The EAAD Technical Advisory Committee (TAC) provides technical advice and the strategic direction for EAAD. The Committee consists of one representative from each EU/EEA country who is specialised in either antimicrobial resistance (AMR), healthcare-associated infections (HAIs), and/or communication. The European Commission (DG Health and Food Safety) and the WHO Regional Office for Europe are also invited to the meeting, as well as representatives from European professional organisations. The TAC meets once a year and is chaired by Pr. Herman Goossens. In 2019 the meeting will be held in Stockholm on 22 - 24 May.
Download

Evaluation of EAAD 2018
On the first day of the meeting, ECDC will provide an opportunity to review 2018 activities at EU and at national level. The presentations includes an evaluation of the ECDC stakeholder outreach, the EAAD event, stakeholder statements, media coverage, social media impact and web statistics. ECDC will also present the main findings of the evaluation survey conducted in January 2019. The presentation will include a summary of the country campaigns and activities as well as country specific challenges and barriers. The European Commission and the WHO Regional Office for Europe will also provide an update of the 2018 activities as well as the plans for 2019.
Healthcare workers' knowledge and attitudes about antibiotics and antibiotic resistance
Public Health England will present the preliminary results and conclusions of an EU-wide survey on the knowledge and attitudes of healthcare workers (HCWs) about antibiotics and antibiotic resistance. The survey, launched in January 2019 (funded by ECDC and managed by Public Health England) aims to gain a wider understanding of European HCWs' knowledge and attitudes about antibiotics and antibiotic resistance. The survey includes all EU Member States as well as Norway and Iceland.
Whilst there have been several studies assessing the knowledge and attitudes of the general public and medical students regarding antibiotics and antibiotic resistance in Europe, there is a paucity of literature for HCWs and professionals. This is important, as these groups play a critical role in the widespread use of antibiotics. The survey is supported by the COM-B model, which is a theoretical framework for understanding behaviour. The study seeks to understand the Capabilities, Opportunities and Motivations which enable a given Behaviour (COM-B) among HCWs in EU/EEA countries. The results of the study will be used to design behaviour change interventions - a coordinated set of activities intended to change specified behaviour patterns.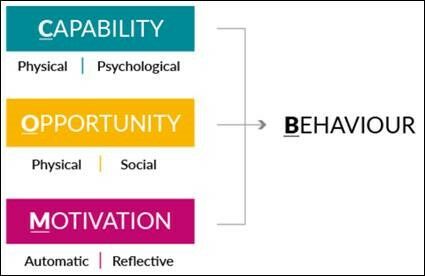 Capability: The individual's psychological and physical capacity to engage in an activity, such as knowledge and skills.
Opportunity: The individual's physical and social environment that leads to a behaviour.
Motivation: The individual's reflective and automatic mechanisms, such as habits, emotions, analytic decisions, that leads to a behaviour.
Behaviour (applied to antibiotic resistance):
The behaviour of HCWs that drive antibiotic resistance in EU/EEA countries.
Behaviour change strategies to improve prudent use of antibiotics
The second day of the meeting will focus on behaviour change strategies to improve prudent use of antibiotics. John Kinsman, an ECDC expert in social and behaviour change communication, will provide a 45-minute introduction to four models of health behaviour:
COM-B model;
Health belief model;
Social marketing;
Trans-theoretical model.
After the introduction, the participants will be organised into six working groups, each led by a facilitator from ECDC. The groups will be given three priority areas, which have been identified by a literature review and behavioural analysis conducted by Public Health England in 2015 as potential targets for behavioural interventions. These include:
Addressing the fear of the consequences of not prescribing/dispensing
Improving a HCW's perceived capability in terms of their own behaviour impacting upon antibiotic resistance
Developing skills to communicate about antibiotics and antibiotic resistance during consultations, including enabling prescribers to not issue a prescription (at least an immediate one)
Workshop on social media listening and strategy
The workshop will include a presentation of principles of social media planning, target audiences, content development, social listening, analysis and results. The activity will include case presentations and on-site exercises. After the TAC meeting, ECDC will provide a workshop report with a summary of the content of the workshop and key learning points. There will also be a separate presentation on social media listening by Laura Alonso, communication officer at the European Union Joint Action on Antibiotic Resistance and Healthcare-associated Infections (EU-JAMRAI).
E-bug – fun games and teaching resources about microbes and antibiotics
Cliodna McNulty, Public Health England, will provide a presentation on the E-bug initiative  and the latest developments. The E-bug is an education resource, which aims to reduce antibiotic resistance by helping children and young people understand infections and antibiotic use. The education is free to access and is available in 22 languages, operating in 26 countries worldwide.
EAAD 2019
The last day will be devoted to the plans for 2019. ECDC will present the plans for EAAD 2019 followed by a roundtable discussion where all the participants will present their activities marking EAAD/WAAW.