Simulation exercise management workshop in Tanzania
ECDC experts in emergency preparedness and response travelled to Arusha, Tanzania, to conduct a simulation exercise management workshop from 23 to 27 January 2023. The workshop was jointly organised by ECDC and the Africa Centres for Disease Control and Prevention (Africa CDC), and its Regional Collaborating Centres (RCCs) and partners.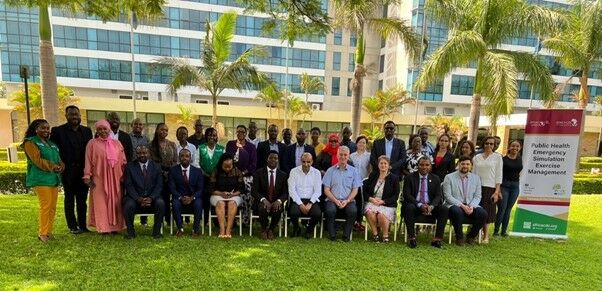 The workshop gathered 33 participants from 19 African Union (AU) Member States in the Eastern and Southern RCCs, making it the largest event funded by the ECDC4AfricaCDC project. 
Representatives of the Tanzanian Ministry of Health opened the workshop. Alongside their counterparts from the Africa CDC, ECDC experts provided in-person guidance, facilitation and technical advice regarding simulation exercise management.
The aim of the workshop was to further develop the participants' skills in designing, preparing, coordinating, conducting, and evaluating public health emergency simulation exercises. This was both a part of preparedness planning as well as to cascade knowledge on simulation exercise management training (training of trainers), which will strengthen the response capacities of AU Member States for public health events caused by communicable diseases.
Participants from the Africa CDC and RCC teams discussed important aspects of their strategic plans and their support of AU Member States to advance the implementation of the World Health Organization (WHO) International Health Regulations, as simulation exercise delivery is a key component of the Monitoring and Evaluation framework.
 
Background
ECDC and Africa CDC initiated a four-year capacity- and partnership-building project in January 2021, 'EU for health security in Africa: ECDC4AfricaCDC'. 
The implementation of the project is structured around three technical work packages to deliver key results in the technical cooperation between ECDC and Africa CDC, in order to:
strengthen Africa CDC's capacities in preparedness and response to public health threats;
facilitate harmonised surveillance and disease intelligence of prioritised outbreak-prone communicable diseases at the continental level; 
support the implementation of Africa CDC's public health workforce development strategy.