Reaching the SDG targets on Health by 2030: ECDC Session at European Health Forum Gastein 2018
Will we reach the United Nations Sustainable Development Goal (SDG) for health by 2030 and the targets set for HIV/AIDS, hepatitis and tuberculosis? ECDC's session at the European Health Forum Gastein looks at the action required to end AIDS and TB, and to combat hepatitis.
As part of the overall theme of the European Health Forum Gastein (EHFG) 2018, "Health and Sustainable Development: Bold political choices for Agenda 2030", ECDC's session will explore the status in the EU with regard to HIV/AIDS, viral hepatitis and tuberculosis (TB), and whether Europe is on track to reach the Sustainable Development Goal for health. The session will highlight the remaining challenges and actions needed to end AIDS and TB, and eliminate viral hepatitis as a public health threat by 2030. ECDC Director, Dr. Andrea Ammon sets the agenda:
The Sustainable Development Goal for health is by no means an impossible feat for Europe, however the scale of the epidemics in the EU and EEA countries vary, as do their health systems. Overall, reaching and testing those at risk of infection is still a public health challenge across Europe, but if we want to interrupt existing transmission chains and prevent further infections, we need to strengthen local prevention and control practices.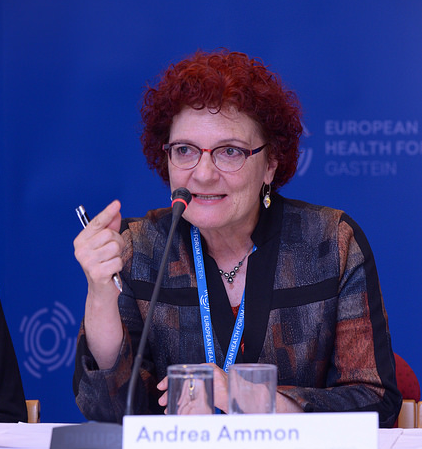 ECDC Director Andrea Ammon will be moderating the session, which includes speakers Vinay P. Saldanha (UNAIDS Regional Director for Eastern Europe and Central Asia), Freek Spinnewijn (Director for FEANTSA, European Federation of National Organisations Working with the Homeless), Fanny Voitzwinkler (Head of EU Office, Global Health Advocates), Tuula Vasankari (Secretary General, FILHA, Finnish Lung Health Association), Nikos Dedes (European AIDS Treatment Group) and Ricardo Baptista Leite (Member of Parliament and permanent member of the Parliamentary Health Committee, Portugal).
The session will take place on Thursday, 4 October 2018, from 09:00 – 11:30 in Bad Hofgastein. Highlights from the session will be available on the ECDC tuberculosis and HIV/AIDS Twitter accounts @ECDC_TB and @ECDC_HIVAIDS, as well as from @ECDC_EU.