European Antibiotic Awareness Day (EAAD) 2020
European Antibiotic Awareness Day (EAAD) is a European health initiative coordinated by ECDC. It provides a platform and support for national campaigns on the prudent use of antibiotics in the EU/EEA and take place each year across Europe on 18 November. Due to the COVID-19 pandemic, EAAD will this year be marked with a digital campaign.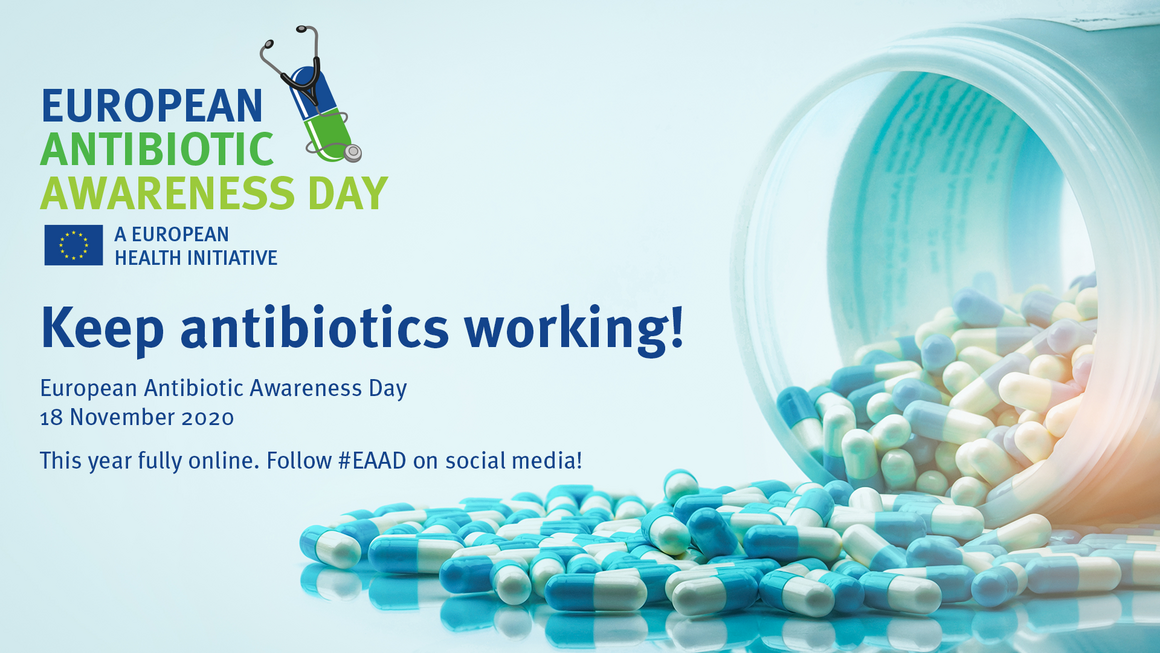 The EAAD digital campaign, in partnership with the World Antimicrobial Awareness Week (WAAW), will take place during the week of 18-24 November 2020, with a special focus on 18 November with the theme:
"In times of COVID-19, don't give up on antimicrobial resistance (AMR) and stay united to preserve antimicrobials".
The digital campaign will include:
Short video statements from the European Commission, the German EU presidency, the WHO Regional Office for Europe, EU agencies, experts on AMR, and the EU Joint Action on AMR and healthcare-associated infections (EU-JAMRAI);
Global social media campaign and activities. 
Get the latest data
On the occasion of EAAD, ECDC will publish surveillance reports on antimicrobial resistance and antimicrobial consumption in the EU/EEA based on the latest (2019) data. 
Get involved on social media
Hashtags around the campaign 
The online discussion can be tagged with a selection of hashtags we have monitored to be frequently used by us, other stakeholders and some regular Twitterers around the topic of EAAD: 
#EAAD, #AntibioticResistance, #Antibiotics & #KeepAntibioticsWorking
Global Twitter storm 
Once again, organisations from around the globe will tweet about #AntibioticResistance and #WAAW on 18 November at 15:00 CET to raise awareness of the issue. If you wish to participate, make sure to post this through your Twitter account at that time or during the day, together with hashtags that are relevant for you. 
Video
Eurosurveillance editorial