Ebola treatment trial: two drugs identified as more effective
Two out of the four drugs tested in a multi-drug randomised control trial have been found more effective in treating Ebola, the World Health Organization announced on Monday. The Data and Safety Monitoring Board, an independent body that has been reviewing interim safety and efficacy data, has therefore recommended that the study be stopped and that all future patients be randomized to receive either REGN-EB3 or mAb114, in what is being considered an extension phase of the study.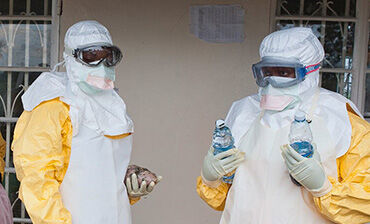 PALM ("Together save lives"), the study initiated in November 2018, was testing four agents (ZMapp, remdesivir, mAb114 and REGN-EB3) for the treatment of patients with Ebola virus disease. The preliminary results indicate that patients receiving REGN-EB3 or mAb114 had a greater chance of survival compared with the other two. As of August 9, 2019, the trial had enrolled 681 patients, mostly at Ebola Treatment Centres in Beni, Katwa, Butembo and Mangina (DRC).
One year of the Ebola outbreak in the DRC
Since the beginning of the outbreak in August 2018, there have been 2831 Ebola virus disease cases (2737 confirmed, 94 probable), including 1891 deaths (1797 confirmed, 94 probable), according to the Ministry of Health of the Democratic Republic of the Congo.
Twenty-seven of the 45 health zones in the North Kivu and Ituri Provinces have reported confirmed or probable Ebola virus disease cases.
UNICEF reports that nearly 30% of Ebola cases from this epidemic are children, as compared to around 20% in previous epidemics. Healthcare workers have also been particularly affected (149 cases).
Implementing response measures has been challenging in the affected areas because of the prolonged humanitarian crisis, the unstable security situation and the resistance among the population.
The fact that the outbreak is ongoing in areas with cross-border population flow with Rwanda, South Sudan and Uganda remains of particular concern. According to WHO, the risk is very high at national and regional levels.
The overall risk for the EU/EEA countries is very low. However, the risk can only be eliminated by stopping transmission at the local level.
The outbreak affecting North Kivu and Ituri Provinces in the northeast is the largest-ever outbreak reported in the country and the world's second largest in history. It has been declared a Public Health Event of International Concern (PHEIC) on 17 July 2019, by WHO Director-General Dr. Tedros Adhanom Ghebreyesus.