Ebola outbreak in Uganda, as of 11 January 2023
On 11 January 2023, Uganda declared that the Ebola disease outbreak caused by the Sudan ebolavirus was over. The declaration was made after 42 days passed without any case reported, since the last case was released from care.
Overall, 142 confirmed cases of Sudan virus disease (SVD) were reported, of which 55 died (CFR: 39%), and 87 recovered. In addition, 22 deaths among probable cases were reported in individuals who died before samples could be taken (overall CFR: 47%). At least 19 healthcare workers were infected, of whom seven died.
Over 4000 contacts were followed up for 21 days (WHO AFRO News).
Overall, nine Ugandan districts were affected by this outbreak: Bunyangabu, Jinja, Kagadi, Kampala, Kassanda, Kyegegwa, Masaka, Mubende, and Wakiso.
Background
On 20 September 2022, the Ministry of Health in Uganda, together with WHO AFRO, confirmed an outbreak of SVD in Mubende District, Uganda, after one fatal case was confirmed.  
The index case was a 24-year-old man, a resident of Ngabano village of the Madudu sub-county in Mubende District. The patient experienced high fever, diarrhoea, abdominal pain, and began vomiting blood on 11 September 2022. Samples were collected on 17 September 2022 and SVD was laboratory-confirmed on 19 September. The patient died on the same day, five days after hospitalisation. 
This was the fifth SVD outbreak that occurred in Uganda.
Ebola cases in Uganda, 2022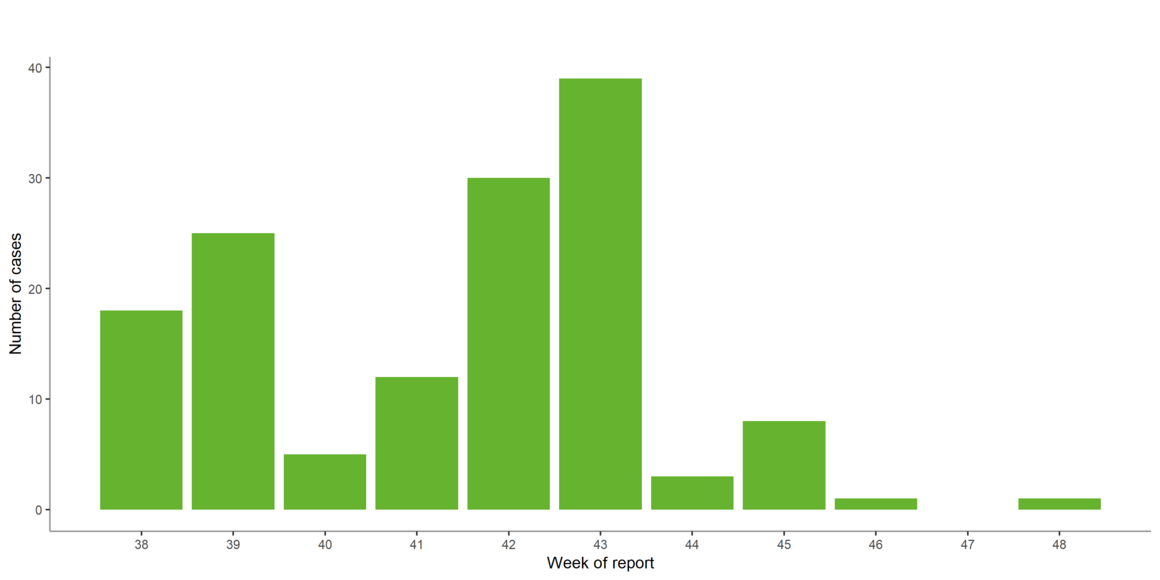 Disclaimer: This figure is based on the latest available data from different public official sources. Updates are not always available on a daily basis. In addition, please note that there is a delay between the date of disease onset, the date of detection and the date of reporting, resulting in a reporting lag. This should be taken into consideration when interpreting these figures.
Geographical distribution of SVD cases in Uganda, 2022