Weekly influenza update, week 9, March 2018
Influenza continues to circulate widely in the region and some eastern European countries are experiencing a slow start. Countries experiencing a cold spell may experience a more severe season. Overall, 49% of individuals sampled from primary healthcare settings tested positive for influenza virus, a slight decrease compared to the previous week (50%). Both influenza virus types A and B were co-circulating with a higher proportion of type B viruses. Differences in proportions of circulating influenza virus types and A subtypes were observed between countries.The majority of severe cases admitted to non-ICU hospital wards were adults infected by influenza type B viruses. Half of the severe cases admitted to ICU were adults infected by influenza type A viruses. Based on data provided by 17 EU countries to EuroMOMO, excess mortality from all causes has been raised significantly over past months in the south-western part of the European region, notably in the elderly. However, mortality seems to be declining.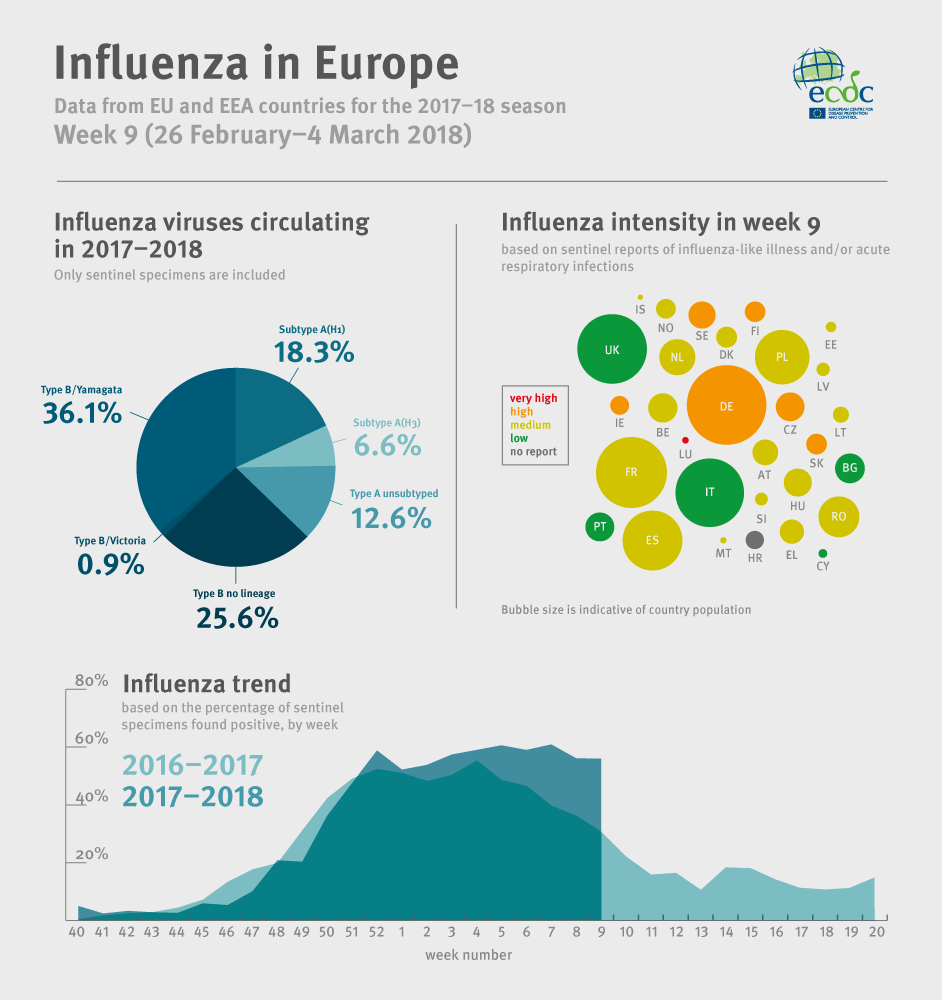 Download
2017/18 season overview 
For the region overall, a higher proportion of type B compared to type A viruses has been detected in sentinel and non-sentinel sources, representing a high level of circulation of influenza B viruses compared with recent seasons. Of the type A virus detections from sentinel sources, the majority of which were subtyped, A(H1N1)pdm09 viruses have outnumbered A(H3N2) viruses. In non-sentinel sources, more A(H3N2) viruses were reported than A(H1N1)pdm09 viruses.
The majority of severe cases reported this season are due to influenza B and occur in persons above the age of 15 years. For laboratory-confirmed influenza cases in ICU, comparable numbers were infected by influenza type A and B viruses, and the elderly were at increased risk of ICU admission. In laboratory-confirmed influenza cases reported from wards other than ICU, type B viruses were detected approximately twice as frequently as type A viruses.
For type B viruses from both sentinel and non-sentinel sources, B/Yamagata lineage viruses have greatly outnumbered those of the B/Victoria lineage. The current trivalent seasonal influenza vaccine does not include a virus from the B/Yamagata lineage.
Different patterns of dominant type and A subtypes were observed between the countries of the Region, which may be due to differences in relative weights of information being derived from sentinel, non-sentinel and severe influenza case sources of information.
While low in number, 60% of the genetically characterized A(H3N2) viruses belong to clade 3C.2a, the clade of the vaccine virus described in the WHO recommendations for vaccine composition for the northern hemisphere 2017–2018, and 37% to subclade 3C.2a1, with mammalian cell-cultured viruses in both clades being antigenically similar.
Although few B/Victoria lineage viruses have been detected, their characterization has shown an increasing percentage (currently 47%) of viruses belonging to a subclade of clade 1A viruses, represented by B/Norway/2409/2017. These viruses have a two amino acid deletion in haemagglutinin (Δ162-163) and are antigenically different from the current trivalent vaccine component, a B/Brisbane/60/2008-like virus.
Interim results from 5 European studies indicate that, in all age groups, influenza vaccine effectiveness was 25 to 52% against any influenza, 55 to 68% against influenza A(H1N1)pdm09, 7 to 42% against influenza A(H3N2) and 36 to 54% against influenza B, which is consistent with previous estimates from Canada, Finland, Germany, Spain, Stockholm County and the United States of America.
Additional information on global influenza activity is available from WHO's biweekly global updates.
From 19–21 February 2018, WHO-HQ held the Vaccine Composition Meeting during which recommendations were made for the composition of the 2018–2019 northern hemisphere vaccine. The full report is available here.
See all weekly influenza updates
More about influenza surveillance