Weekly influenza update, week 2, January 2018
Influenza activity was increasing in countries in northern, southern and western Europe. Both influenza types B and A viruses were co-circulating and different patterns of circulation were observed between countries in the Region. Of the individuals sampled, on presenting with ILI or ARI to sentinel primary healthcare sites, 46% tested positive for influenza viruses, similar to the previous weeks (42-50%).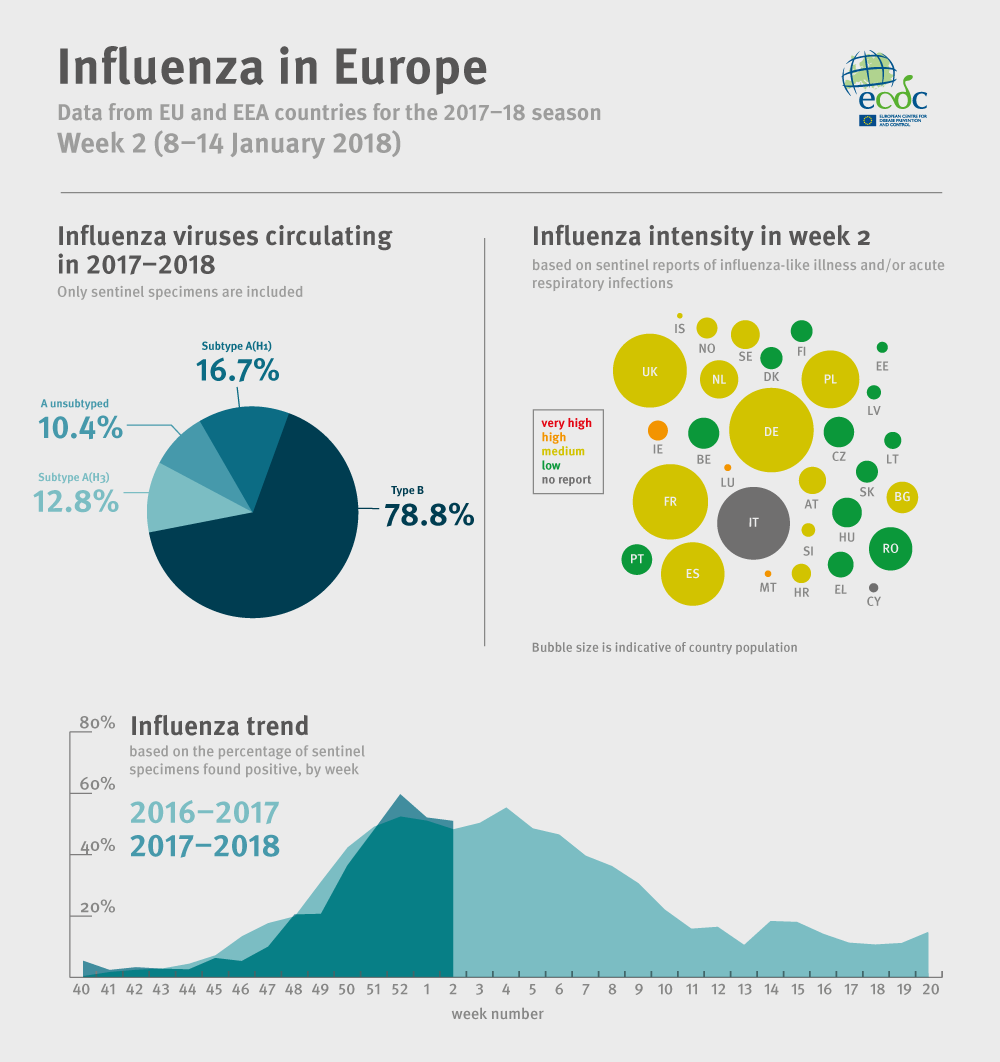 Download
2017/18 season overview 
From sentinel sources for the Region overall, a higher proportion of type B viruses compared to type A viruses has been detected. Of the type A detections, A(H1N1)pdm09 viruses have outnumbered A(H3N2) viruses
From non-sentinel sources for the Region overall, a similar proportion of type B viruses compared to type A viruses has been detected. Of the type A detections, A(H3N2) viruses have outnumbered A(H1N1)pdm09 viruses.
For type B viruses from both sentinel and non-sentinel sources, B/Yamagata lineage viruses have greatly outnumbered those of the B/Victoria lineage.
Different patterns of dominant type and A subtype were observed across the countries in the Region, an important cause of the observed differences between sentinel, non-sentinel and severe influenza sources of information.
While low in number, 64% of the genetically characterized A(H3N2) viruses belonged to clade 3C.2a, the clade of the vaccine virus described in the WHO recommendations for vaccine composition for the northern hemisphere 2017–18, and 36% to clade 3C.2a1, with viruses in both clades being antigenically similar.
An early risk assessment based on data from EU/EEA countries was published by ECDC on 20 December 2017. First detections indicated circulation of A(H3N2) and B/Yamagata viruses in the highest proportions. As the A(H3N2) subtype dominated last season, a high proportion of the population should be protected.
Other news
Based on data submitted to the EuroMOMO project there has, over the past weeks, been increased all-cause mortality among the elderly, notably in the southwestern part of the European Region and the United Kingdom (Scotland).
The US CDC published a Health Alert Network (HAN) notice, regarding increased A(H3N2) activity that affects mostly people aged over 65 and younger children, leading to more hospitalizations and deaths. Based on the moderate vaccine effectiveness, detailed information on recommended antiviral treatment is provided. See full report here.
Additional information on global influenza activity is available from WHO's biweekly global updates.
See all weekly influenza updates