Leaflet: Are you and your family protected from vaccine-preventable diseases?
Leaflet on vaccination for Ukrainian refugees.
Download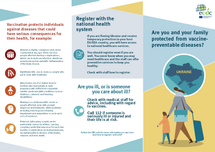 This file can be reproduced, adapted and/or distributed, totally or in part, irrespective of the means and/or the formats used, provided that ECDC is always acknowledged as the original source of the material. Such acknowledgement must be included in each copy of the material. 
The ECDC logo may not be used without ECDC's prior written consent. If you would like to request the use of the ECDC logo, please submit a written request to communication@ecdc.europa.eu