Information sheet on ​​Crimean-Congo haemorrhagic fever for the general public living in endemic areas ​ ​ ​
The information sheet is mainly intended for people living in endemic areas who have been bitten by (a) tick(s) so as to inform them primarily about the symptoms that they have to be aware of. (Adaptable templates available)
Download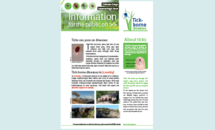 How to adapt the materials? 
Our materials can be adapted according to your language, cultural specificities and campaign focus. The files are provided in:
 
PDF flattened format for easy reproduction: this format can be used  to view the material and for printing purposes
Adobe InDesign format for professional use: this format can be used to modify the layout and/or the text
Word files: this format can be used to facilitate translation in your language  
For more information and information materials on tick-borne disease prevention see the communication toolkit.
Read more on the ECDC website
Factsheets on tick-borne diseases