EpiReport tool
The EpiReport is a tool that allows the user to draft an epidemiological report similar to the ECDC Annual Epidemiological Report in Microsoft Word format for a given disease. Through standalone functions, the package is specifically designed to generate each disease-specific output presented in these reports.
Download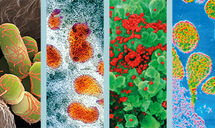 The material herein is provided in a format for easy adaptation. See our Legal notice
About the ECDC Annual Epidemiological Report (AER):
ECDC's annual epidemiological report is available as a series of individual epidemiological disease reports, related to communicable diseases and health issues under European Union and European Economic Area disease surveillance. Find out more
Installation
The software is available as an R package under European Union Public Licence v.1.2 EUPL © the European Union 2007, 2016.
R was chosen as the computing platform to make the tool as broadly available as possible, as it is free, open source, and runs on any modern operating system.
To use an R package, R must first be downloaded and installed on your computer. For detailed instructions for installing the R package, read the manual and the vignette.
Option 1: Download from the ECDC website
1. Download the package: EpiReport tool: Source package
2. Open R.
3. Open the Packages menu.
4. Select Install package(s) from local zip files.
5. Navigate to where you have saved the ECDC Zip.
6. Select filename and click Open.
The package must be downloaded to your computer before you can open it in R. DO NOT unpack the downloaded Zip file, it only needs to be saved on your computer.
To verify the integrity of the original zip file (version 0.1.0):
MD5 checksum
e4cc146c9ae17ab262a3822d0a211e54
SHA1 checksum
dfb5d8371f5848b457d8d38332ad5e1b90897f45
Option 2: Download from CRAN
For R users, an R package was released on the CRAN repository:
Option 3: Download from GitHub
GitHub users can download directly from the ECDC GitHub page:
Disclaimer
ECDC accepts no responsibility or liability whatsoever (including but not limited to any direct or consequential loss or damage it might occur to you and/or any other third party) arising out of or in connection with the installation and/or usage of this software.
Suggested citation
EpiReport: Epidemiological report, R package, [software application] Version 0.1.0 Stockholm: European Centre for Disease Prevention and Control; 2018