Training workshop on Simulation Exercises organised by ECDC
ECDC organised a training workshop on Simulation Exercises (SimEx) in Stockholm, Sweden from 31 May–1 June. It aimed at health professionals from the European Neighbourhood Policy (ENP) partner countries under the framework of the EU Initiative on Health Security.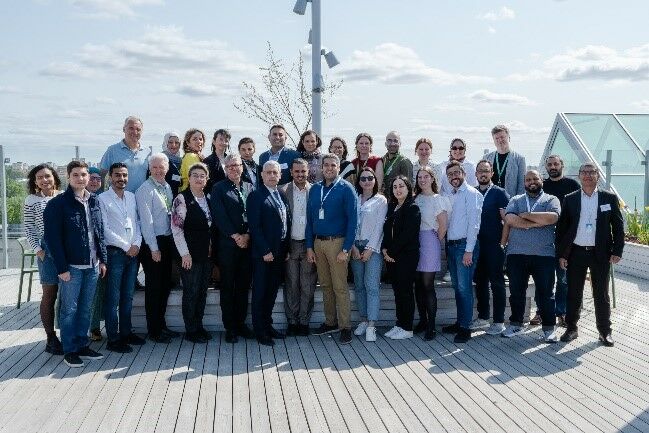 The training workshop brought together 21 public health experts working in preparedness and response within the national public health institutes and ministries of health in the ENP partner countries. Eight ECDC staff members also attended this training, which was facilitated by ECDC SimEx experts from the Emergency Preparedness and Response Support Section.
The main aim of the training was to provide the participants with guidance and skills in developing simulation exercises in public health settings in order to support national authorities and institutions in their respective countries to strengthen their capacity to respond to events involving communicable diseases, as a part of their development and testing of preparedness plans and strategies.
The participants were introduced to the main types of simulation exercises. They learned how to define aims and objectives as well as choose the correct exercise format and develop a scenario when designing a simulation exercise. This included ensuring the active involvement of relevant staff categories and competencies, external stakeholders, and the media. This was followed by practical group exercises, where the participants were tasked to design simulation exercises based on different disease outbreak scenarios.
The second part of the training focused on the documentation needed to guide a simulation exercise and the logistics required during an exercise delivery process. Participants had group discussions about how to develop relevant injects, populate a Master Events List (MEL), prepare a logistical setup, and create an evaluation plan to identify potential gaps, weaknesses, drive change and improve coordination and communication. The meeting closed with group work presentations and discussions on different stages of simulation exercises.   
Learning outcomes and objectives
After completing the training, participants will be familiarised with the different simulation exercise formats and be able to choose the most appropriate one for specific emergency situations, taking into account the necessary logistics that need to be put in place. They will be able to design, develop and deliver effective simulation exercises. They will also be able to identify potential gaps and strengthen established capacities to improve existing preparedness and response plans.
The training was practical, and activity based with a main focus on group interaction. It offered participants the opportunity to expand their skills and knowledge in simulation exercise.
Background
Public health events require a coordinated approach to preparedness and response planning in order to reduce the impact on health, environment, and society. Therefore, simulation exercises are considered a key element of the preparedness cycle and an integral component of an organisation's preparedness planning.
Simulation exercises provide a tool for the practical application of procedures and skills, as well as opportunities to identify gaps, needs and weaknesses, and last but not least,  a test of the organisational level of preparedness.
EU Initiative on Health Security
The EU Initiative on Health Security (EU-IHS) is a five-year programme (2020–2025) aiming to enhance the public health preparedness and response capacities of the European Union enlargement and the European Neighbourhood Policy partner countries.
The Initiative aims to create regional capabilities and competent workforces for the prevention and control of communicable diseases, and to intensify regional cooperation to tackle cross-border health security threats.
Related courses