Epidemiological update: Measles - monitoring European outbreaks, 25 August 2017
Romania and Italy have been experiencing large outbreaks of measles in 2017. Cases continue to be reported despite ongoing reinforced vaccination activities at the national level. All EU/EEA countries have reported measles cases this year, except for Latvia, Liechtenstein, Malta and Norway. This week, updates are also provided for countries outside EU/EEA.
Update of the week
This week, updates are provided for Austria, Denmark, Italy and Romania. According to national public health authorities, measles have caused a total of 40 deaths in EU countries in 2016 and 2017. In 2016, deaths occurred in Romania (12) and the UK (1). In 2017, deaths have been reported from Romania (20), Italy (3), Bulgaria (1), Germany (1), Portugal (1) and France (1).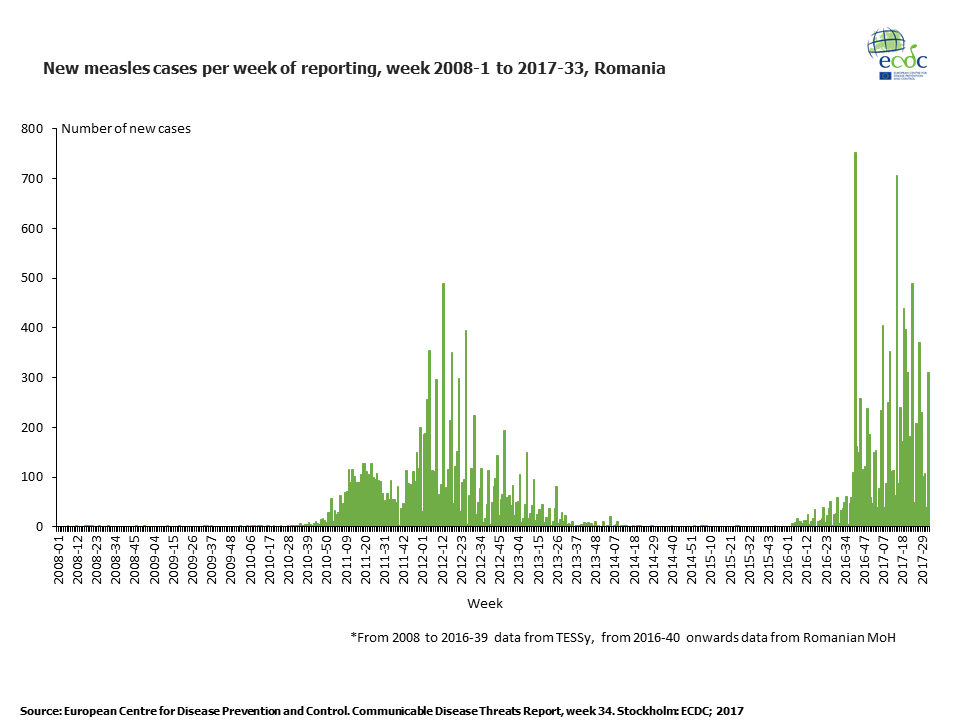 Epidemiological summary
Epidemiological summary for EU/EEA countries, with updates since last week
Austria has reported two cases since 18 August 2017. In 2017, as of 18 August, Austria has reported 83 measles cases. This exceeds the number of measles cases in 2016. 
On 23 August 2017, Denmark reported one additional cases in South Zealand and one in Central Zealand. In 2017, as of 23 August, Denmark has reported four cases. In 2016, Denmark reported three cases. 
Italy has reported 133 cases since 11 August 2017. In 2017, as of 22 August, Italy has reported 4 220 cases, including three deaths. Of these cases, 283 are healthcare workers. The median age is 27 years; 88% of the cases were not vaccinated, and 7% received only one dose of vaccine. In 2016, Italy reported 861 cases. 
Romania has reported 310 cases since 18 August 2017. Since 1 January 2016 and as of 18 August 2017, Romania reported 8 803 cases, including 32 deaths. Of these, 1 969 cases were reported in 2016, and 6 834 cases were reported in 2017. 
Non-EU countries, cases since last month
Australia Since the beginning of August 2017 and as of 18 August, Australia has reported three measles cases in a school in Perth (Western Australia). 
Bangladesh: On 24 July 2017, Bangladesh reported one additional death since the latest report on 21 July. According to 
news media, in July 2017 more than 100 children were hospitalised due to measles. Ten cases died. The cases occurred in Sitakunda's Tripura Para in the south of the country where measles vaccination activities ceased seven years ago. 
DR Congo: In 2017, as of 4 July, DR Congo has reported 24 845 suspected measles cases, including 315 deaths. This is an increase of 3 347 since the latest report on 21 July. The incidence of new cases has declined since the current outbreak peaked in early 2017. 
Ethiopia: In 2017, as of 6 August, Ethiopia has reported 2 601 cases. This is an increase by 355 cases since the latest report on 21 July. Of the reported cases, 17.2% were unvaccinated, and 43.8% had an unknown immunisation status. 
Israel: On 14 August 2017, Israel reported nine cases of measles among soldiers, diagnosed between 7 and 14 August. The index case had visited his family in Ukraine where he likely contracted the disease. During the past four months, Israel has reported 26 measles cases. 
Kenya: Measles outbreaks have been ongoing in Dagahaley, Dadaab, and IFO refugee camps in Garissa County since March 2017  and in Mandera county since June 2017. As of 31 July, 49 cases (12 confirmed) were reported, including one death. 
Liberia: In 2017, as of 13 August, Liberia has reported 1 027 suspected measles cases, an increase of 85 cases since the last report on 21 July. Of the suspected cases, 859 were tested with 143 positive, 671 negative, 45 equivocal and 12 pending. One hundred forty-eight of the suspected cases were compatible with measles and epi-linked. Of the 705 equivocal and negative cases, 608 samples have been tested for rubella, 305 of which were positive. 
Nigeria: In 2017, as of 30 July, Nigeria has reported 15 607 suspected measles cases, including 89 deaths. During the same time period in 2016, 20 964 suspected cases and 84 deaths were reported. 
Oman: In 2017, as of 19 August, Oman reported 89 measles cases, compared with 114 cases in 2016. 
Russia: In the first half of 2017, Russia reported 127 cases of measles, including 76 children under the age of 18. During the same time period in 2016, 64 suspected cases were reported.  
Somalia: In 2017, as of 31 July, Somalia has reported 14 823 suspected cases, compared with 5 000 to 10 000 cases per year since 2014. More than 80% of cases of the current outbreak are children under 10 years of age.
South Africa: In 2017, as of 14 July, South Africa has reported 102 cases of measles. Most cases where reported from an ongoing outbreak in Gauteng province (54 cases) and from an outbreak in Western Cape province (30). Measles cases in Gauteng Province are continuing to increase. Many of the cases are above five years of age, which is outside the age groups targeted by the national measles vaccination campaign. 
Syria: Between 16 and 22 July 2017, Syria has reported 34 suspected measles cases, with most cases from rural Damascus (9), Ar-Raqqa (5), Damascus (6), and Hama (5). During the first six months of 2017, Syria has reported 352 confirmed measles cases. Most of the cases were reported in April (92 cases).
Thailand: In 2017, as of 15 July, Thailand has reported 1 926 cases from 71 provinces. No deaths were reported. The highest morbidity rate was in the south of Thailand. 
Uganda: Between 24 April and 9 August 2017, 282 cases (including one death, CFR: 0.4%) were reported from Kampala (216 cases and one death) and Wakiso (66 cases). The outbreak is being attributed to low immunisation coverage, especially among large peri-urban populations. A preliminary analysis shows that only 3% of the reported cases had previous measles vaccination. 
Ukraine: In 2017, as of 18 August, news media reported 22 cases of measles in Kiev, compared to four cases in the same period in 2016.  As of 8 August, Ukraine has reported nearly 700 suspected measles cases in the Ivano-Frankivsk region. 
During the first half of 2017, 1 043 cases were registered in Ukraine, including 783 children. Two vaccinated children died. 
USA: In 2017, as of 15 July, 117 cases have been reported from 13 states (California, Florida, Kansas, Maine, Maryland, Michigan, Minnesota, Nebraska, New Jersey, New York, Pennsylvania, Utah, and Washington). In 2016, 70 cases from 16 states were reported.
ECDC assessment
Measles outbreaks continue to occur in EU/EEA countries. There is a risk of spread and sustained transmission in areas with susceptible populations. Vaccination with at least two doses remains the most effective measure.
ECDC link: Measles page
Actions
EU/EEA countries report measles cases on a monthly basis to ECDC who publishes them monthly. Since 10 March 2017, ECDC has been reporting on measles outbreaks in Europe on a weekly basis. ECDC also monitors worldwide outbreaks on a monthly basis through epidemic intelligence activities. ECDC published a rapid risk assessment on 6 March 2017.