ECDC launches new COVID-19 situation dashboard
ECDC has launched a new COVID-19 situation dashboard, providing users with a simpler, more user-friendly platform to explore the latest available COVID-19 data from Europe and worldwide.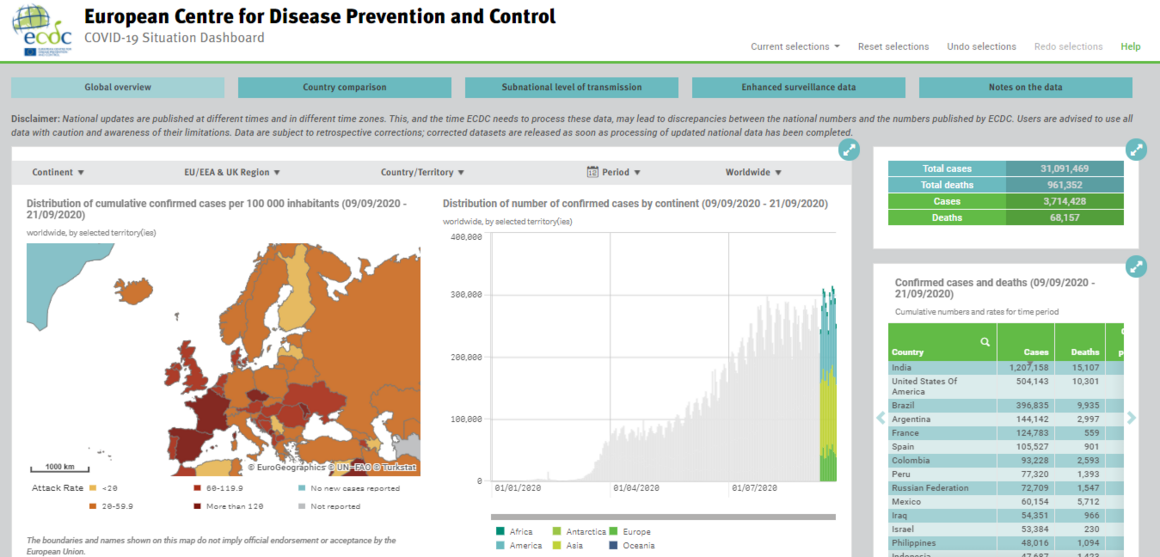 The ECDC COVID-19 situation dashboard, first launched in March 2020, has been improved with a simplified design and enhanced functionality enabling users to easily monitor the COVID-19 pandemic at the European and global level.
Through interactive maps, graphs and tables, users are able to easily view, compare and export data on COVID-19 cases and deaths by region or country, and within a specified timeframe.
The dashboard also allows users to view and export data on subnational levels of transmission in the EU/EEA and the UK, as well as enhanced data on subsets of cases, including age, gender, hospitalisation and admission to intensive care.
Since the beginning of the pandemic, ECDC's Epidemic Intelligence team has been collecting data on COVID-19 at the European and global level on a daily basis. The COVID-19 situation dashboard is updated every day to visualise and disseminate this data.  
Visit the new COVID-19 situation dashboard