COVID-19: Cases increasing across Europe
In many countries across the EU/EEA and the UK, an increase of COVID-19 cases is being observed following the lifting of lockdowns and the relaxation of preventive measures such as physical distancing.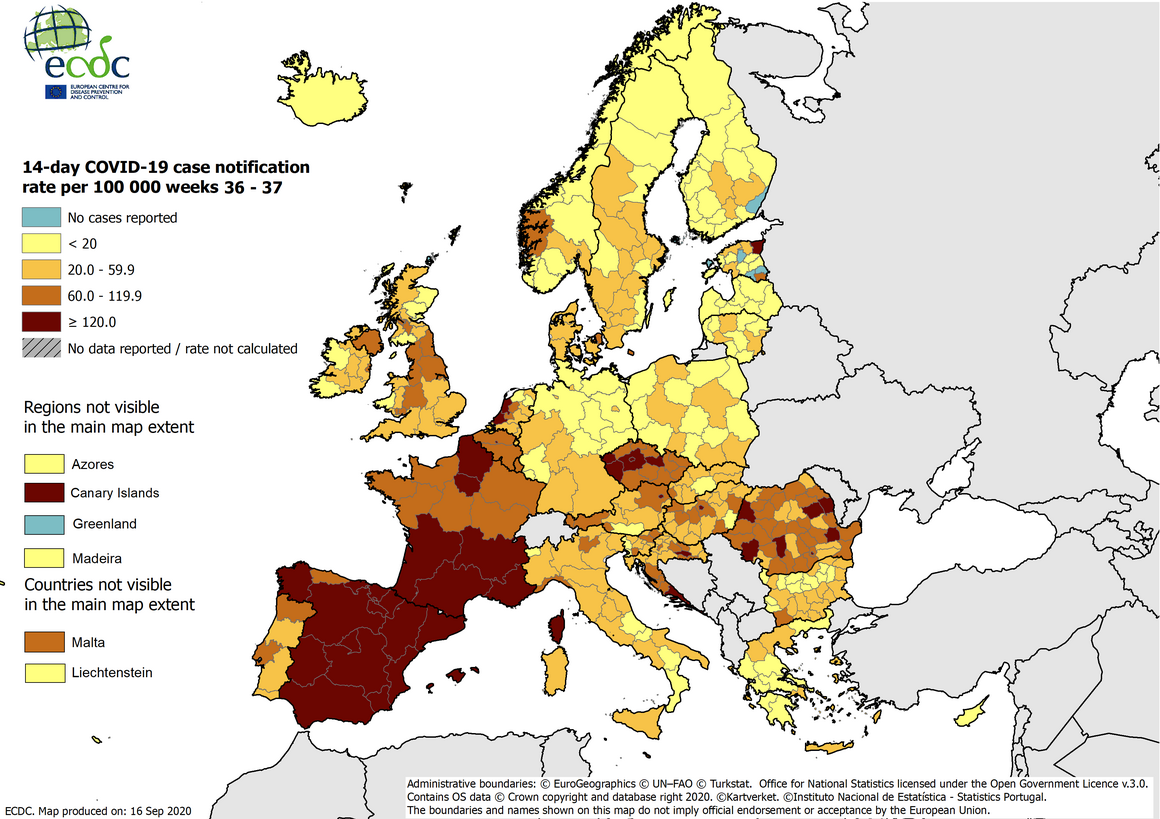 According to the latest COVID-19 data, the 14-day case notification rate for the EU/EEA and the UK has been increasing for more than 50 days, with over half of all EU countries currently experiencing an increase in cases. 
While increased testing contributes to better awareness of all ongoing transmission, it is not the only reason for the increase of COVID-19 cases, which is also linked to the relaxation of physical distancing and other preventive measures.
As schools reopen and more indoor activities are held, the increase of cases comes as a reminder that the pandemic is not over.
Everybody has a role to play in preventing the further spread of the disease by observing simple preventive measures, including:
Increased hand hygiene;
Proper cough and respiratory etiquette;
Appropriate use of face masks;
Staying home when even mildly ill;
Physical distancing.
Recent evidence confirms the importance of physical distancing for the prevention of person-to-person transmission. Physical distancing of one metre or more has been proven to ensure a five-fold reduction in the transmission risk, and every extra metre of distance gives twice the protective effect.
ECDC recommends that testing efforts are maximised, with the aim of offering timely testing to all symptomatic cases, including mild ones. Along with rapid contact tracing, large-scale testing is the key to controlling transmission within a population, followed by the isolation and treatment of identified cases and the quarantining of contacts.
Furthermore, with the influenza season approaching, the preparedness of healthcare systems across Europe is vital. This includes essential services, primary care facilities and hospitals ensuring appropriate surge capacity plans in case of a high demand for the care of patients with respiratory distress.
ECDC continues to monitor the pandemic closely and provide guidance to the Member States on how to cope with the current challenges.