Zika transmission in past nine months
The information is provided to aid diagnosis for returning travellers, especially pregnant women with travel history during pregnancy - returning from countries and territories that have recently experienced or are currently experiencing local active Zika virus transmission. Countries and territories are removed from this list if no new evidence of Zika virus transmission is provided within nine months.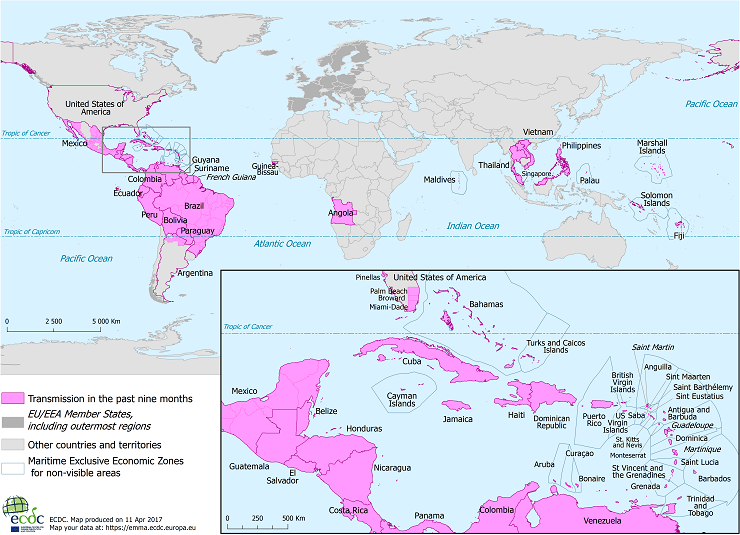 Download
Countries
Region
American Samoa
 
Angola
 
Anguilla
 
Antigua and Barbuda
 
Argentina
Formosa Province
​Argentina
​Salta Province
​Argentina
​Tucuman
Aruba
 
Bahamas
 
Barbados
 
Belize
 
Bolivia
 
Bonaire
 
Brazil
 
British Virgin Islands (UK)
Cape Verde
 
Cayman Islands
 
Colombia
 
Costa Rica
 
Cuba
 
Curaçao
 
Dominica
 
Dominican Republic
 
Ecuador
 
El Salvador
 
Fiji
 
French Guiana
 
Grenada
 
Guadeloupe
 
Guatemala
 
Guinea-Bissau
 
Guyana
 
Haiti
 
Honduras
 
Jamaica
 
Malaysia
 
Maldives
 
Martinique
 
Mexico
 
Micronesia, Federated States of
Montserrat
 
New Caledonia
 
Nicaragua
 
Palau
 
Panama
 
Paraguay
 
Peru
 
Philippines
 
Puerto Rico
 
Saba
 
Saint Kitts and Nevis
 
Saint Lucia
 
Saint Martin
 
Saint Vincent and the Grenadines
Saint-Barthélemy
 
Samoa
 
Singapore
 
Sint Eustatius
 
Sint Maarten
 
Solomon Islands
 
Suriname
 
Thailand
 
Trinidad and Tobago
 
Turks and Caicos Islands
United States of America
Miami-Dade
United States of America
Broward
United States of America
Palm Beach
United States of America
Cameron
US Virgin Islands
 
Venezuela
 
Vietnam
 
United States of America
Pinellas
Page last updated:
11 Apr 2017
Read more
Zika transmissionArchived
Latest maps on the Zika transmission worldwide, to support health professionals in evaluating the risk of infection for travellers, especially pregnant women, returning from affected areas.