Translation is not enough: cultural adaptation of health communication materials
This guide introduces a five-step, stakeholder-based approach to adapting health communication materials. It describes how countries can take any health communication material (produced in English or other languages) and create adapted products which reflect national or local realities, needs and assets without losing the scientific correctness, core concepts and messages of the original version.

Download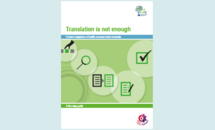 Publication data
Data
Communication toolkit on immunisation: How to increase immunisation uptake
This ECDC communication toolkit aims to support EU/EEA countries in their communication initiatives to increase immunisation uptake, in particular childhood vaccination. It provides template materials that health authorities can adapt to develop their own communication initiatives, in line with national, regional or local strategies and needs.
Related content
There are currently no items to display