Monkeypox situation update, as of 27 September 2022
Since the start of the monkeypox outbreak and as of 27 September 2022, 20 083 confirmed cases of monkeypox (MPX) have been reported from 29 EU/EEA countries. In total, 58 cases have been reported from three Western Balkan countries and Turkey.

The five countries reporting most cases since the start of the outbreak are: Spain (7 149), France (3 969), Germany (3 607), Netherlands (1 223) and Portugal (851).

The highest cumulative notification rates have been reported in Spain, Luxembourg and Portugal (see the table).

Deaths have been reported from: Spain (2), Belgium (1) and Czechia (1).

Excluding data from the last three weeks, which may be incomplete, the 7-day notification rate during week 36 (05/09–11/09) was the highest in Luxembourg, Spain and Ireland. During this week, decreases in notification rates were reported by 12 countries with the largest decrease in Croatia, Slovakia and Portugal. Increases in notification rates were reported by 10 countries (Austria, Denmark, Finland, Greece, Hungary, Luxembourg, Norway, Poland, Romania and Sweden).
Risk assessment
Based on the latest ECDC risk assessment, the overall risk is assessed as moderate for people having multiple sexual partners (including some groups of MSM) and low for the broader population.  
The likelihood of MPX spreading further in networks of people with multiple sexual partners in the EU/EEA is considered high, such as MSM, and the likelihood of MPX spreading among the broader population is assessed as very low. Early diagnosis, isolation, effective contact tracing, and targeted vaccination strategies are key to the effective control of this outbreak. It is essential to underpin all response measures with strong risk communication and community engagement efforts, as well as raising awareness among health professionals.   
MPX case numbers have been decreasing since the end of July. Efforts in risk communication and community engagement, resulting in behavioural changes, together with the end of the summer events season, vaccination and increased immunity levels have been reported as key contributors to this effect.
ECDC closely monitors the MPX epidemiological situation and will review the level of the risk according to the evolution of the outbreak.  
Note: Data presented in this update are compiled from TESSy and official sources.  
More surveillance reports
Geographical distribution of confirmed monkeypox cases in the EU/EEA since the start of the outbreak, and as of 27 September 2022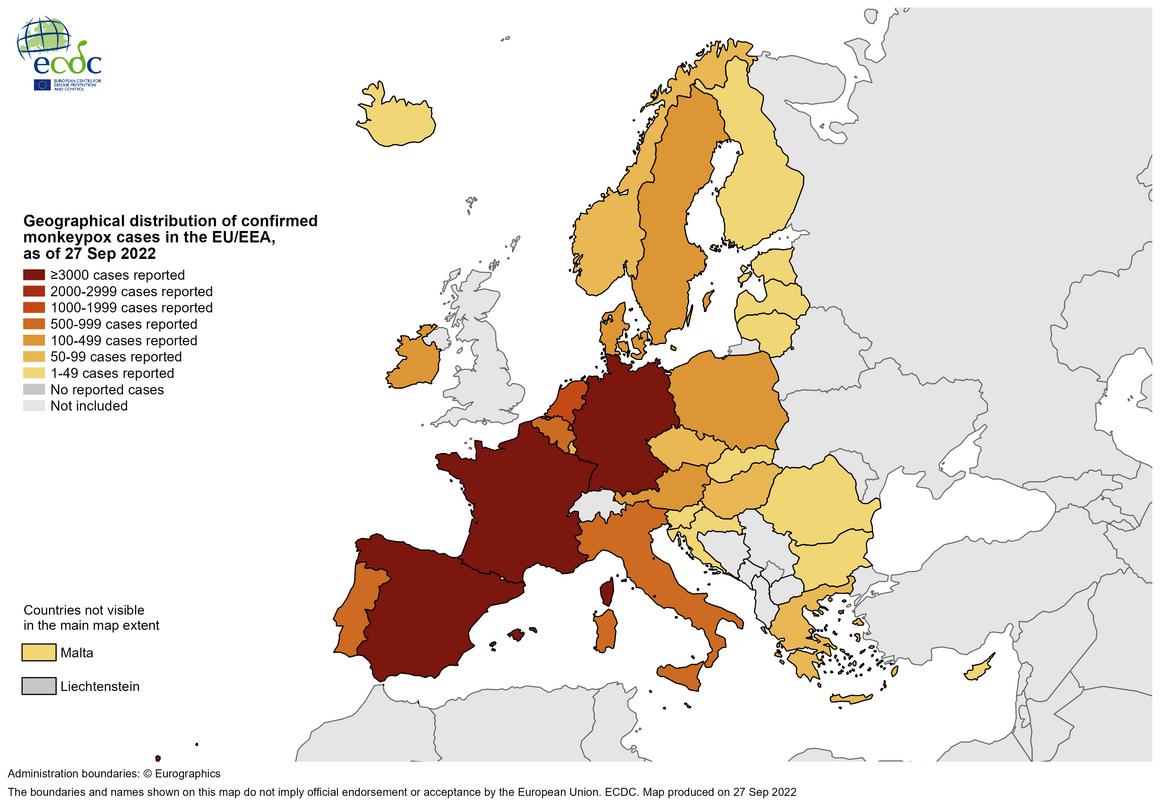 Geographical distribution of confirmed monkeypox cases per 1 000 000 population in the EU/EEA since the start of the outbreak, and as of 27 September 2022
Number of confirmed monkeypox cases reported weekly in the EU/EEA, as of 27 September 2022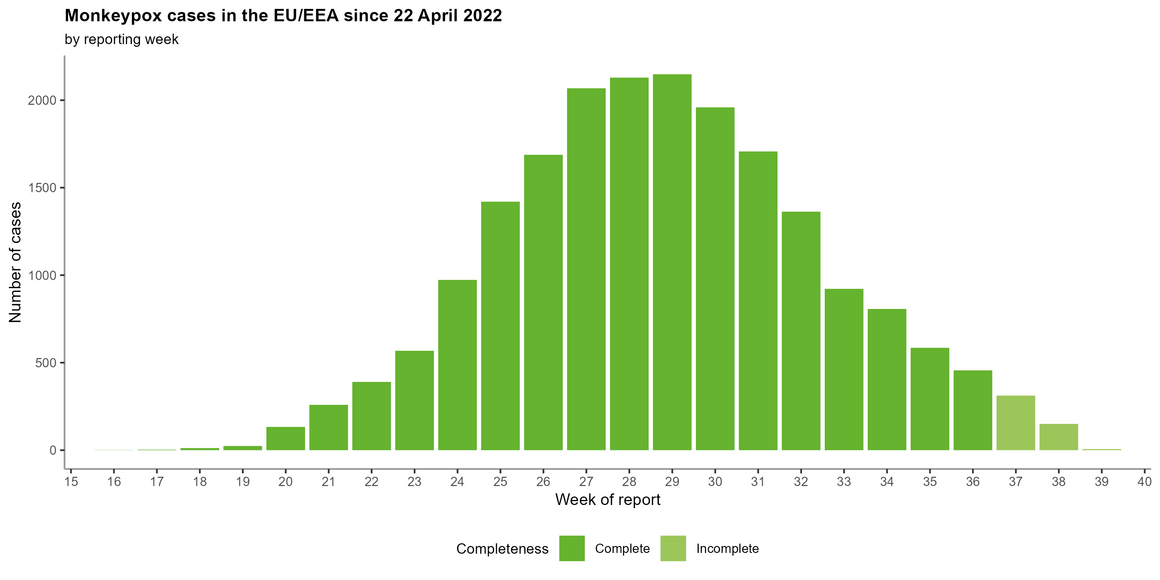 Geographical distribution of confirmed monkeypox cases in the EU/EEA, the Western Balkans and Turkey, since the start of the outbreak, and as of 27 September 2022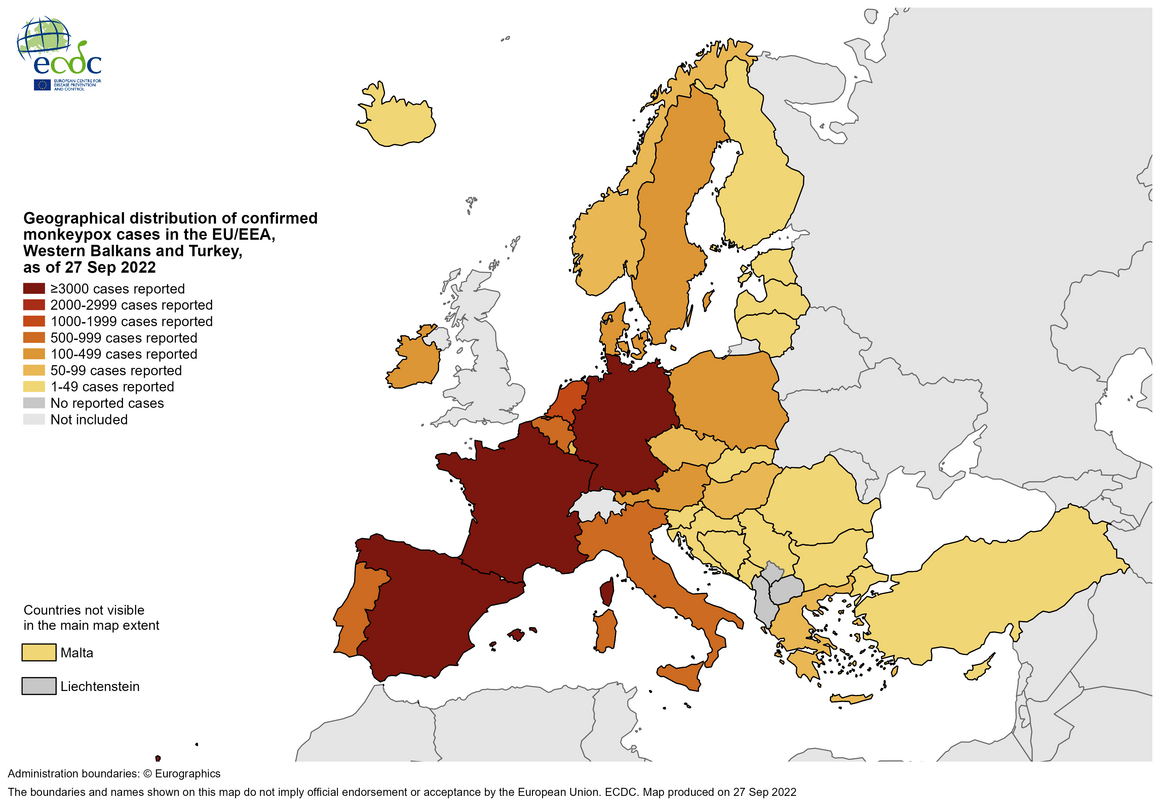 Geographical distribution of confirmed monkeypox cases per 1 000 000 population in the EU/EEA, the Western Balkans and Turkey since the start of the outbreak, and as of 27 September 2022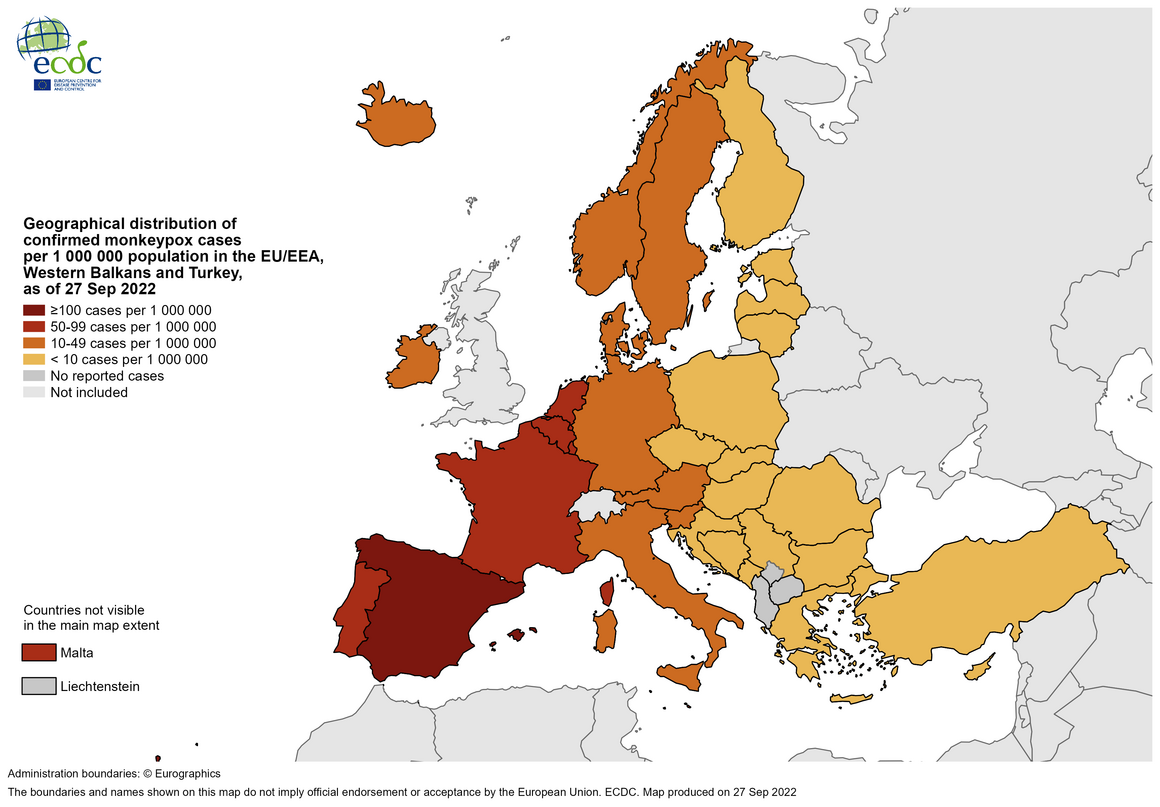 Number of confirmed monkeypox cases reported weekly in the EU/EEA, the Western Balkans and Turkey, as of 27 September 2022
Table with the summary of monkeypox cases reported by EU/EEA countries, as of 27 September 2022
| | | | | | | |
| --- | --- | --- | --- | --- | --- | --- |
| Country | Total number of cases | Crude notification rate per million population | Notification rate in week 36 (05/09– 11/09) | Change (%) in notification rate between week 36 and 35 | Days since the last case | Date of the first reported case |
| Austria | 309 | 34.6 | 1.7 | 6.2 | 4 | 18 May 2022 |
| Belgium | 770 | 66.6 | 1.5 | -6.3 | 7 | 19 May 2022 |
| Bulgaria | 6 | 0.9 | 0.1 | 0 | 18 | 23 June 2022 |
| Croatia | 29 | 7.2 | 0 | -100 | 12 | 23 June 2022 |
| Cyprus | 5 | 5.6 | 0 | 0 | 32 | 2 August 2022 |
| Czechia | 66 | 6.2 | 0.6 | -25 | 12 | 30 May 2022 |
| Denmark | 185 | 31.7 | 0.9 | 28.6 | 5 | 22 May 2022 |
| Estonia | 11 | 8.3 | 0 | 0 | 14 | 28 June 2022 |
| Finland | 40 | 7.2 | 1.3 | 160 | 5 | 24 May 2022 |
| France | 3969 | 58.7 | 1.7 | -29.2 | 6 | 19 May 2022 |
| Germany | 3607 | 43.4 | 0.4 | -55.6 | 1 | 20 May 2022 |
| Greece | 74 | 6.9 | 0.7 | 133.3 | 4 | 23 May 2022 |
| Hungary | 77 | 7.9 | 0.4 | 300 | 11 | 26 May 2022 |
| Iceland | 14 | 38 | 0 | 0 | 11 | 13 June 2022 |
| Ireland | 183 | 36.6 | 2.4 | -25 | 4 | 31 May 2022 |
| Italy | 846 | 14.3 | 0.5 | -16.7 | 1 | 18 May 2022 |
| Latvia | 5 | 2.6 | 0 | 0 | 2 | 6 June 2022 |
| Liechtenstein | 0 | 0 | 0 | 0 | 0 |   |
| Lithuania | 5 | 1.8 | 0 | 0 | 49 | 3 August 2022 |
| Luxembourg | 55 | 86.7 | 3.2 | - | 19 | 13 June 2022 |
| Malta | 33 | 63.9 | 0 | 0 | 34 | 25 May 2022 |
| Netherlands | 1223 | 70 | 0.9 | -35.7 | 8 | 19 May 2022 |
| Norway | 91 | 16.9 | 0.6 | 50 | 5 | 30 May 2022 |
| Poland | 188 | 5 | 0.4 | 33.3 | 5 | 31 May 2022 |
| Portugal | 851 | 82.6 | 0.2 | -77.8 | 4 | 22 April 2022 |
| Romania | 40 | 2.1 | 0.1 | - | 4 | 13 June 2022 |
| Slovakia | 14 | 2.6 | 0 | -100 | 25 | 6 July 2022 |
| Slovenia | 46 | 21.8 | 0.5 | -44.4 | 20 | 25 May 2022 |
| Spain | 7149 | 150.8 | 3.1 | -24.4 | 1 | 13 May 2022 |
| Sweden | 192 | 18.5 | 1.1 | 83.3 | 1 | 24 May 2022 |