Epidemiological update: Multi-country outbreak of Salmonella Enteritidis phage type 8, MLVA profile 2-9-7-3-2 and 2-9-6-3-2 infections
Since the ECDC and EFSA joint rapid outbreak assessment was published on 7 March 2017, six EU Member States (Belgium, France, Italy, Norway, Sweden and the United Kingdom) have reported 50 confirmed and 12 probable new cases associated with the multi-country outbreak of Salmonella Enteritidis phage type 8 infections (MLVA profiles 2-9-7-3-2 and 2-9-6-3-2) ongoing in the EU/EEA. In addition, twelve probable cases have been reclassified as confirmed.
Confirmed cases are defined based on whole genome sequencing (WGS). Probable cases are defined based on multiple-locus variable-number tandem repeat analysis (MLVA) typing [1]. From 1 May 2016 to 26 June 2017, 14 EU/EEA countries reported 280 confirmed cases and 257 probable cases. Cases reported before May 2016 are classified as historical cases: from 2012 to 31 March 2016, 107 historical confirmed cases and 24 probable cases were also reported (Figure 1).
Figure 1. Distribution of cases by week and case classification (n=646), EU/EEA, January 2015 to June 2017, as of 26 June 2017
The outbreak investigation identified eggs originating from three Polish packing centres as the vehicle of infection in this outbreak. Following the implementation of control measures in Poland in November 2016, the reporting of new outbreak cases sharply decreased. Since March 2017, the number of newly reported cases has increased: 63 outbreak cases, 53 confirmed and 10 probable. The isolates from the 53 confirmed cases belonged to both WGS clusters associated with this outbreak: 39 isolates were part of the WGS cluster_175 (36 from the United Kingdom, two from France and one from Sweden) and 14 isolates were part of the WGS cluster_360 (11 from the United Kingdom and three from France). The United Kingdom has reported 47 of the 63 outbreak cases identified since March 2017 (Figure 2).
Figure 2. Outbreak cases by week and reporting country (n=646), EU/EEA, January 2015 to June 2017, as of 26 June 2017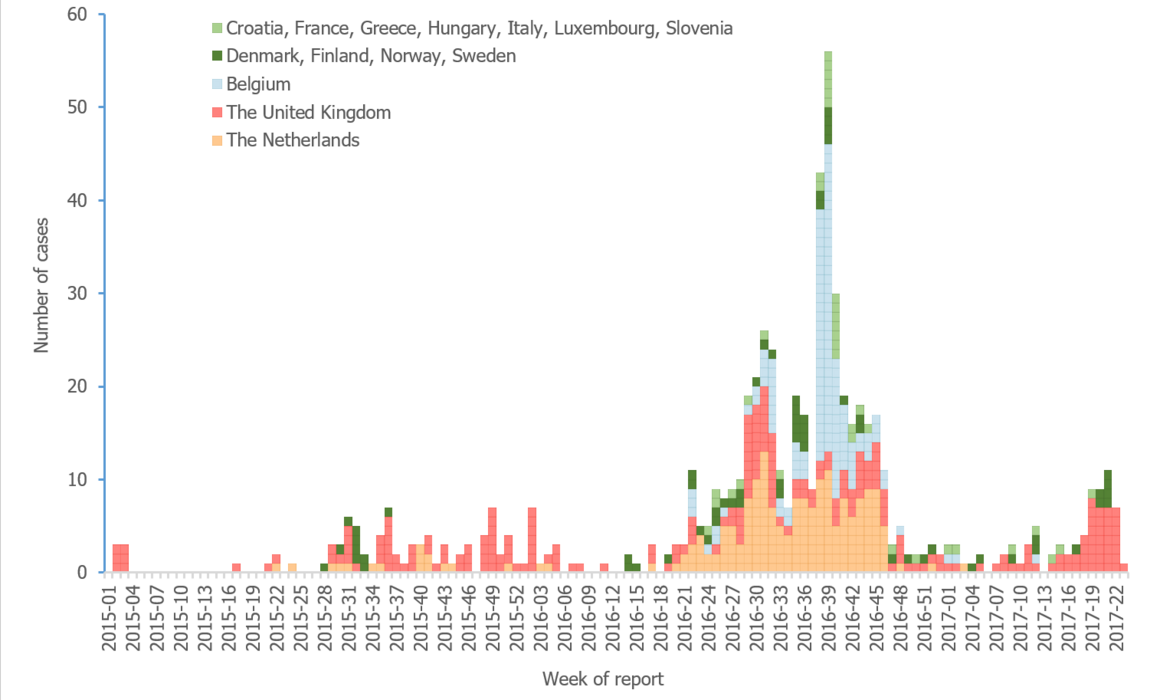 Since March 2017, 30 outbreak cases had information available on travel during the incubation period. Eight of these were infected abroad: five in Portugal, one in Poland, one in Hungary and one either in the United Kingdom or in Portugal. Outbreak cases were also reported in travellers to Hungary and Poland in the preceding weeks. However, confirmed cases with a travel history to Portugal have only been reported since mid-April 2017. It is therefore plausible that Portugal, which has not reported outbreak cases so far, has only recently been affected by this outbreak.
Assessment
Evidence from epidemiological, microbiological, environmental and tracing investigations identified eggs originating from Poland as the vehicle of infections in this outbreak. The current re-emergence of cases infected with the outbreak strains, mostly occurring in the United Kingdom, raises the possibility that a vehicle contaminated with a persistent, still unidentified source remains in circulation.
Actions
Further investigations are required to identify the origin of the transmission resulting in these new cases and to control this outbreak. ECDC continues to monitor the human cases associated with this event and supports sequencing services for countries reporting probable cases with isolates linked to MLVA profile 2-9-7-3-2 or 2-9-7-3-2. EU/EEA countries should consider interviewing new outbreak cases.
European Centre for Disease Prevention and Control and European Food Safety Authority. Multi-country outbreak of Salmonella Enteritidis phage type 8, MLVA type 2-9-7-3-2 and 2-9-6-3-2 infections, 7 March 2017. ECDC and EFSA: Stockholm and Parma; 2017.