ECDC Rapid Risk Assessment highlights young adults and healthcare workers as groups that are susceptible to measles, 21 March 2018
ECDC assesses the risk of measles transmission in the EU/EEA in latest rapid risk assessment.
The latest ECDC rapid risk assessment on the risk of measles transmission in the EU/EEA highlights that vaccination coverage and occurrence of cases vary within countries and population groups. It points to the need for systems to identify and vaccinate young adults, who are increasingly affected and therefore increase measles circulation, but who may not be aware of their vaccination status. Finally, ECDC signals the frequency of cases amongst healthcare workers as a matter of concern and suggests that Member States may consider specific interventions to ensure this group is vaccinated.
Measles cases occur unequally within countries
Data showing the distribution of measles cases within countries (Figure 1) highlights the importance of vaccination coverage of at least 95% of the general population throughout a whole country with two doses of measles-containing vaccine. This is recommended and necessary to ensure that measles circulation is interrupted, and that introduction of measles cases does not result in secondary cases. The availability of data at subnational level allows identification of geographical areas where measles cases are occurring and where targeted actions may be needed to identify unvaccinated individuals, increase coverage rates and carry out response activities.
Figure 1. Subnational distribution of measles cases per million population by place of notification*, EU/EEA, 1 January 2017–31 December 2017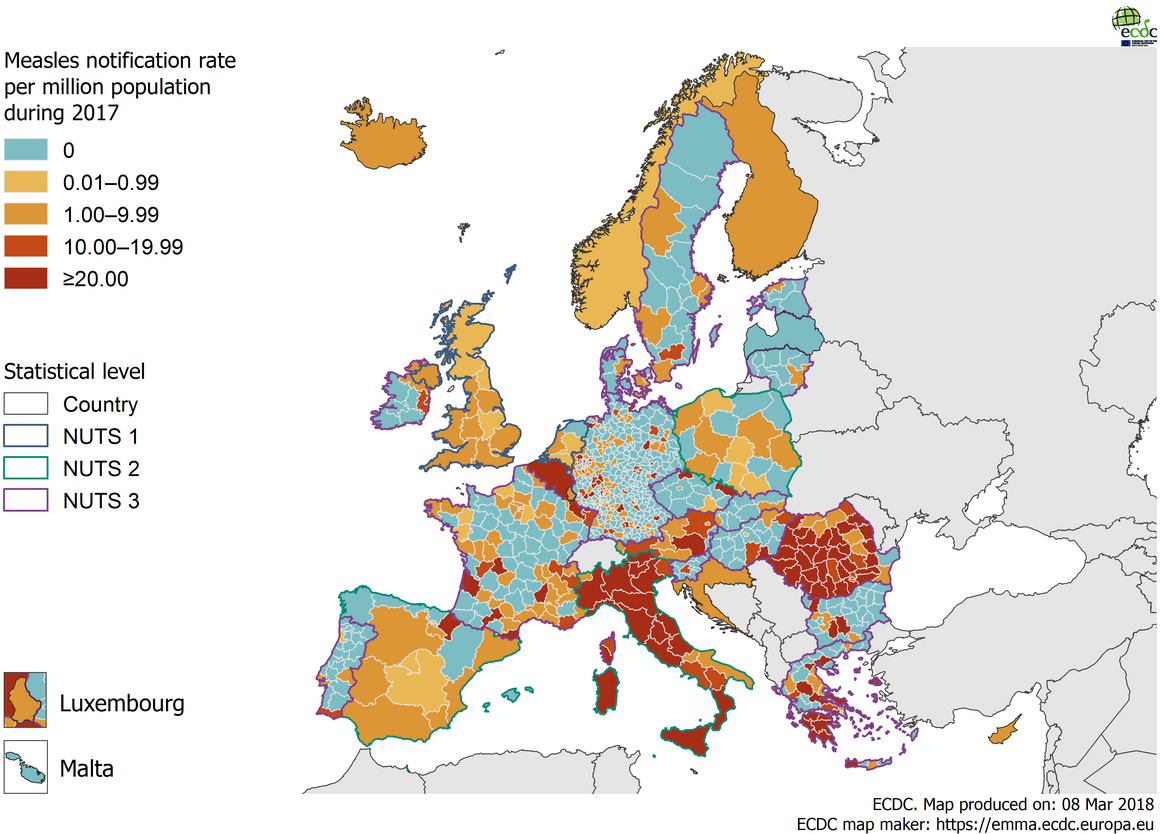 Measles increasingly affects young adults who may not be aware of their vaccination status
Some countries have seen an increasing proportion of cases among adults, prompting the need to consider actions to identify people or pockets of susceptible individuals who are incompletely vaccinated or not vaccinated at all. In light of current outbreaks in several EU countries, individuals who have not been vaccinated with two doses of measles-containing vaccine are at risk of contracting and further spreading measles, especially to infants who are too young to be vaccinated and are more vulnerable to complications from the disease.
Healthcare providers should consider recommending vaccination for all eligible individuals who are not immunised, or not fully immunised, in line with national recommendations. Any encounter with the healthcare system should be used as an opportunity for a catch-up vaccination against measles as well as other vaccine-preventable diseases.
Frequency of measles cases amongst healthcare workers a matter of concern
The frequent occurrence of measles among healthcare workers in several EU/EEA countries is a matter of concern and Member States may consider specific interventions to address this, such as ensuring that all healthcare workers are immune to measles, with proof/documentation of immunity or immunization as a condition of enrolment into training and employment.