Monkeypox situation update, as of 11 August 2022
Since the start of the monkeypox outbreak and as of 11 August 2022, 14 843 confirmed cases of monkeypox (MPX) have been reported from 29 EU/EEA countries: Spain (5 270), Germany (3 063), France (2 601), Netherlands (1 002), Portugal (710), Italy (599), Belgium (546), Austria (195), Denmark (135), Sweden (123), Ireland (101), Poland (85), Norway (66), Hungary (51), Greece (48), Slovenia (41), Luxembourg (39), Romania (31), Malta (30), Czechia (29), Finland (22), Croatia (12), Iceland (11), Estonia (9), Slovakia (9), Lithuania (5), Bulgaria (4), Cyprus (3) and Latvia (3).
Two deaths have been reported from Spain.
Since the start of the monkeypox outbreak and as of 11 August 2022, the following Western Balkan countries have reported confirmed cases of monkeypox: Serbia (23), Bosnia and Herzegovina (1) and Montenegro (1). In addition, five cases have been reported from Turkey.
Since the start of the outbreak, ECDC provides updates for EU/EEA countries, the Western Balkans and Turkey twice a week (Tuesdays and Fridays), with the number of MPX cases reported to The European Surveillance System (TESSy) or collected through ECDC's epidemic intelligence from official public sources.
In the current outbreak in non-endemic countries, cases of MPX have been identified primarily among groups of men who have sex with men (MSM) aged 18–50 years of age. Based on the latest ECDC risk assessment, the likelihood of MPX spreading further in networks of people with multiple sexual partners in the EU/EEA is considered high, and the likelihood of MPX spreading among the broader population is assessed as very low. Although a few severe cases have recently been reported (including encephalitis), the impact of the disease remains low for most cases. The overall risk is therefore assessed as moderate for people having multiple sexual partners (including some groups of MSM) and low for the broader population. Early diagnosis, isolation, effective contact tracing, and targeted vaccination strategies are key to the effective control of this outbreak. It is essential to underpin all response measures with strong risk communication and community engagement efforts, as well as raising awareness among health professionals.
ECDC closely monitors the MPX epidemiological situation and will review the level of risk according to the evolution of the outbreak indicators.
Disclaimer: Data presented in this update are compiled from TESSy and official sources. Databases with larger number of monkeypox cases reported for each country are selected. In this update, countries for which TESSy data were used are: Austria, Belgium, Bosnia and Herzegovina, Bulgaria, Croatia, Cyprus, Czechia, Estonia, Finland, France, Germany, Greece, Hungary, Iceland, Ireland, Italy, Latvia, Lithuania, Luxembourg, Malta, Netherlands, Norway, Poland, Romania, Slovenia, Spain and Sweden. For the rest of the countries, data were included from the epidemic intelligence database.
ECDC and the World Health Organization Regional Office for Europe (WHO/Europe) provide weekly updates for the countries of the WHO European Region. Please refer to the Joint ECDC-WHO Regional Office for Europe Monkeypox Surveillance Bulletin.
For MPX cases worldwide, please refer to WHO's surveillance report.
Geographical distribution of confirmed monkeypox cases in the EU/EEA since the start of the outbreak and as of 11 August 2022
Geographical distribution of confirmed monkeypox cases per 1 000 000 population in the EU/EEA since the start of the outbreak and as of 11 August 2022
Number of confirmed monkeypox cases reported daily in the EU/EEA as of 11 August 2022
Number of confirmed monkeypox cases reported weekly in the EU/EEA as of 11 August 2022
Geographical distribution of confirmed monkeypox cases in the EU/EEA, Western Balkans and Turkey, since the start of the outbreak and as of 11 August 2022
Geographical distribution of confirmed monkeypox cases per 1 000 000 population in the EU/EEA, Western Balkans and Turkey since the start of the outbreak and as of 11 August 2022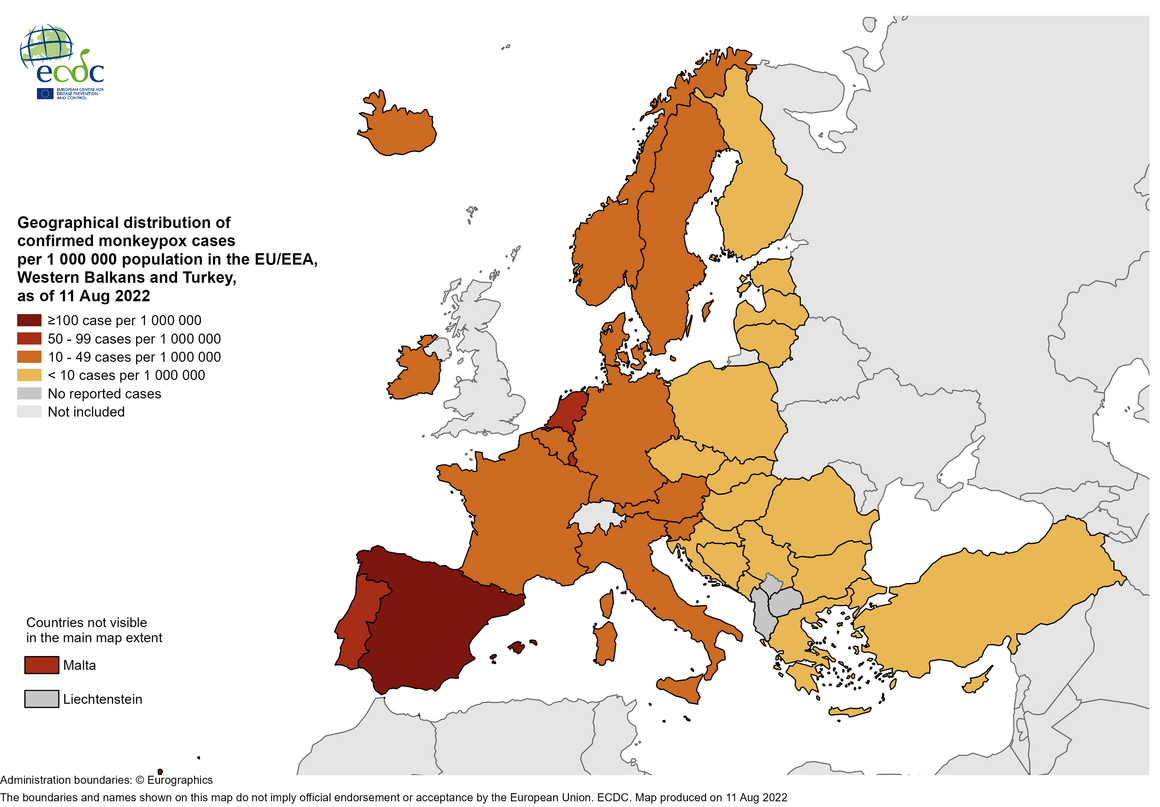 Number of confirmed monkeypox cases reported daily in the EU/EEA, Western Balkans and Turkey, as of 11 August 2022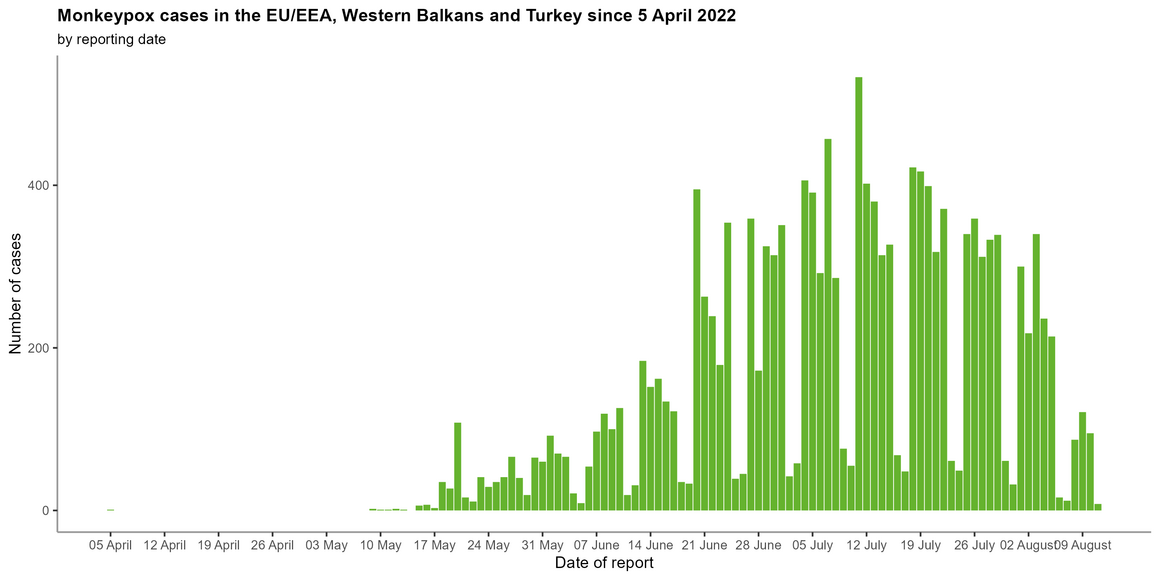 Number of confirmed monkeypox cases reported weekly in the EU/EEA, Western Balkans and Turkey, as of 11 August 2022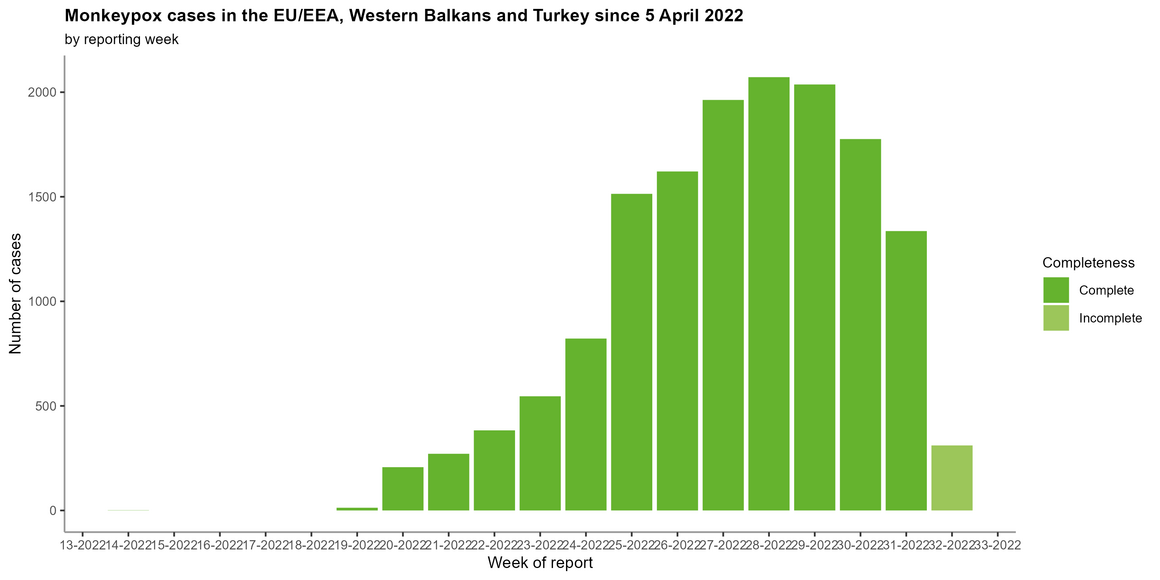 Table with the summary of monkeypox cases reported by EU/EEA countries, as of 11 August 2022
| | | | | | | |
| --- | --- | --- | --- | --- | --- | --- |
| Country | Total number cases | Crude rate per million population | Number cases last 7 days | 7-day change (%) | Time since last case (days) | Date first reported case |
| Austria | 195 | 21.8 | 32 | 19.6 | 0 | 18 May 2022 |
| Belgium | 546 | 47.2 | 5 | 0.9 | 6 | 19 May 2022 |
| Bulgaria | 4 | 0.6 | 0 | 0.0 | 20 | 23 June 2022 |
| Croatia | 12 | 3.0 | 0 | 0.0 | 10 | 23 June 2022 |
| Cyprus | 3 | 3.3 | 2 | 200.0 | 5 | 2 August 2022 |
| Czechia | 29 | 2.7 | 1 | 3.6 | 6 | 30 May 2022 |
| Denmark | 135 | 23.1 | 27 | 25.0 | 0 | 18 May 2022 |
| Estonia | 9 | 6.8 | 1 | 12.5 | 6 | 28 June 2022 |
| Finland | 22 | 4.0 | 0 | 0.0 | 7 | 3 June 2022 |
| France | 2 601 | 38.4 | 97 | 3.9 | 3 | 19 May 2022 |
| Germany | 3 063 | 36.8 | 224 | 7.9 | 1 | 21 May 2022 |
| Greece | 48 | 4.5 | 4 | 9.1 | 3 | 23 May 2022 |
| Hungary | 51 | 5.2 | 0 | 0.0 | 10 | 26 May 2022 |
| Iceland | 11 | 29.8 | 0 | 0.0 | 12 | 13 June 2022 |
| Ireland | 101 | 20.2 | 1 | 1.0 | 6 | 31 May 2022 |
| Italy | 599 | 10.1 | 16 | 2.7 | 3 | 9 May 2022 |
| Latvia | 3 | 1.6 | 0 | 0.0 | 23 | 6 June 2022 |
| Liechtenstein | 0 | 0.0 | 0 |   |   |   |
| Lithuania | 5 | 1.8 | 2 | 66.7 | 2 | 3 August 2022 |
| Luxembourg | 39 | 61.4 | 5 | 14.7 | 2 | 13 June 2022 |
| Malta | 30 | 58.1 | 0 | 0.0 | 7 | 25 May 2022 |
| Netherlands | 1 002 | 57.3 | 6 | 0.6 | 5 | 19 May 2022 |
| Norway | 66 | 12.2 | 2 | 3.1 | 2 | 5 April 2022 |
| Poland | 85 | 2.2 | 3 | 3.7 | 5 | 31 May 2022 |
| Portugal | 710 | 68.9 | 0 | 0.0 | 8 | 18 May 2022 |
| Romania | 31 | 1.6 | 4 | 14.8 | 3 | 13 June 2022 |
| Slovakia | 9 | 1.6 | 1 | 12.5 | 2 | 6 July 2022 |
| Slovenia | 41 | 19.4 | 6 | 17.1 | 2 | 24 May 2022 |
| Spain | 5 270 | 111.2 | 90 | 1.7 | 2 | 9 May 2022 |
| Sweden | 123 | 11.9 | 7 | 6.0 | 3 | 24 May 2022 |
Page last updated
12 Aug 2022