Infectious diseases on aircraft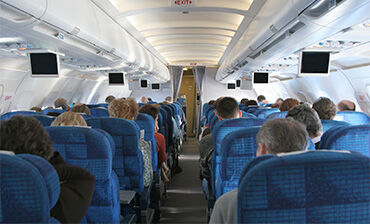 As increasing numbers of people travel by air, the potential risk of introduction and spread of infectious diseases by travellers is on the rise. Figures from Eurostat reveal that around 900 million passengers annually are carried on flights within the European Union (EU) alone.
The transmission of influenza viruses, for example, is facilitated in closed/semi-closed settings through direct person-to-person contact or from contaminated surfaces. At the beginning of the influenza A(H1N1) pandemic in 2009, air travel was the cause of the introduction of this new virus into countries not primarily affected, and aeroplanes are likely to be a major vector when the next pandemic occurs. The outbreak of SARS in 2003, and influenza A(H1N1) in 2009, illustrated how infectious diseases can suddenly appear, spread and even threaten the health, economy and social lives of citizens in countries that are not or not yet directly affected by the epidemic itself.
When flight passengers and/or crew members become exposed to an infectious or potentially infectious person on a journey, early recognition of disease and coordinated risk assessment between authorities in departure and destination countries is needed to initiate an appropriate public health response without unnecessarily alarming the public or disrupting air traffic.
The RAGIDA project
In 2007, ECDC initiated the Risk Assessment Guidance for Infectious Diseases transmitted on Aircraft (RAGIDA) project. The objectives were to assist national public health authorities in the evaluation of risks related to the transmission of various infectious agents on board aircraft, and to help in determining the most appropriate, operationally possible public health measures for containment (for example whether to contact-trace air travellers and crew in case of exposure).
Risk assessments guidelines for infectious diseases transmitted on aircrafts
Page last updated
14 Jun 2017