Weekly influenza update, week 14, April 2018
In collaboration with WHO Regional Office for Europe, ECDC monitors and reports on influenza activity in Europe on a weekly basis throughout the flu season.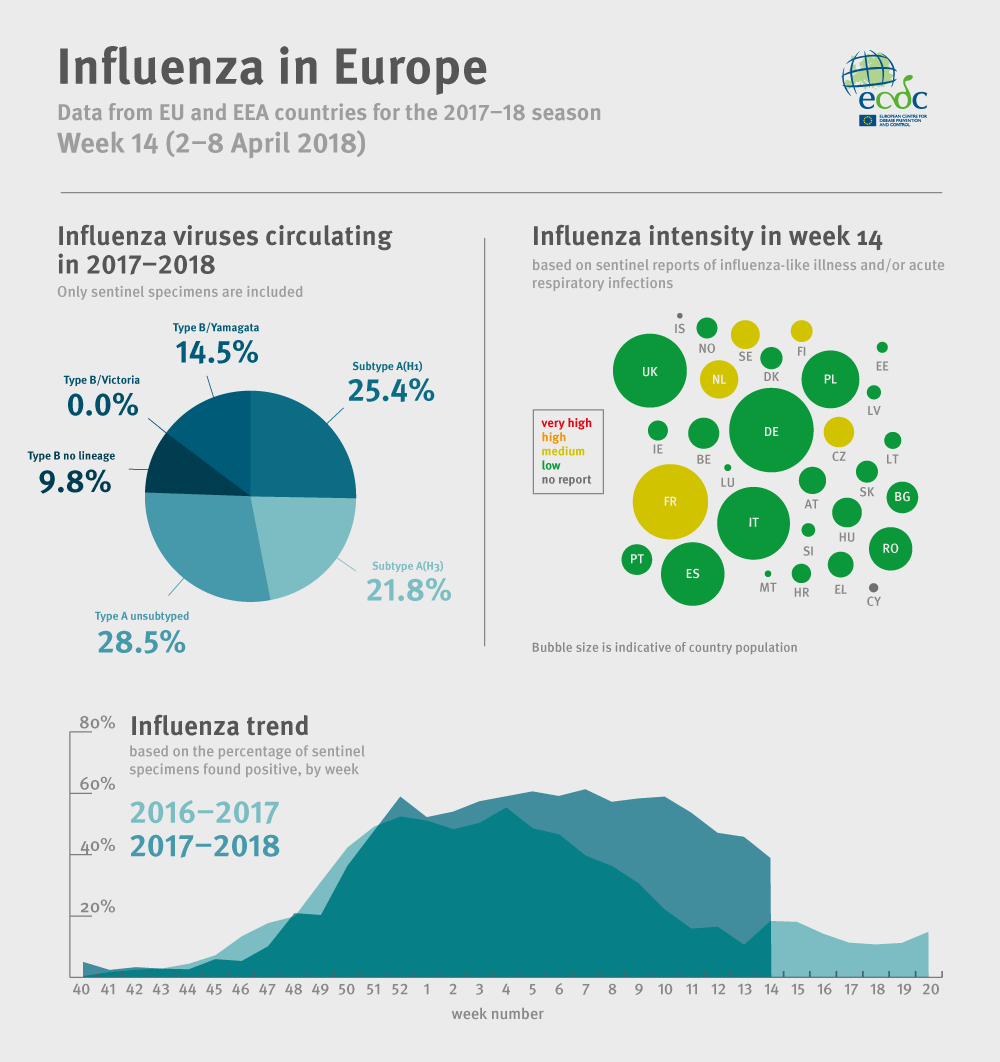 Download
Summary
Influenza viruses continued to circulate in the Region with 28% of the individuals sampled from primary healthcare settings testing positive, while all countries reported low or medium intensity of activity of respiratory infections.

Both influenza virus types A and B were co-circulating with the majority being type A viruses.
2017/18 season overview 
Influenza has been circulating widely in the Region since week 52/2017, based on positivity rates among sentinel specimens, which is longer than in recent seasons and may contribute to the severity of this season.

For the Region overall, the majority of influenza viruses detected were type B, representing a high level of circulation of influenza B viruses compared to recent seasons. B/Yamagata lineage viruses have greatly outnumbered those of the B/Victoria lineage.

Different patterns of dominant type and A subtypes were observed between the countries of the Region. Influenza A viruses are now dominant in several eastern European countries. 

Of the type A virus detections from sentinel sources, the majority of which were subtyped, A(H1N1)pdm09 viruses have outnumbered A(H3N2) viruses. In non-sentinel sources, more A(H3N2) viruses than A(H1N1)pdm09 viruses were reported.

While low in number, 55% of characterized A(H3N2) viruses belong to clade 3C.2a and 41% of B/Victoria lineage viruses belong to a subclade of clade 1A viruses that are antigenically distinct from the current trivalent vaccine component. 

The majority of severe cases reported this season are due to influenza type B and have mostly occurred in persons above the age of 15 years. 

Mortality from all causes based on pooled data from 19 EU countries and regions that reported to EuroMOMO remained elevated in some countries. 

Interim results from 5 European studies indicate 25 to 52% vaccine effectiveness against any influenza.
More about seasonal influenza