From the Field: Mission report An EPIET fellow on a cholera mission in Angola.
An EPIET fellow on a cholera mission in Angola, by Lisanne Gerstel (EPIET cohort 11)
There I was, in Luanda airport, within a week of knowing I was leaving. I was carrying articles about cholera in my hand luggage and had three mefloquine tablets in my bloodstream.
I had to hand in my passport (not to see it back for some weeks) and in the absence of a visa I showed the rapidly organized letters indicating my involvement in Médecins Sans Frontières, Switzerland (MSF-CH) and my official invitation by the Angolese government.
I was thrilled that Epicentre decided they could use my help on this mission… As a second year EPIET-fellow in Spain, I hoped that I could contribute, firstly by practicing good epidemiology, and may be by trying to communicate in Portuñol (mixture of Spanish and Portuguese) and besides I wanted to absorb impressions of everything that an emergency mission entails.
Upon arrival in the 'MSF-house' in the capital, an American nurse and I were directly briefed on the situation in Angola. Of course I had a briefing by telephone before I left, but this was my first mission and there were a lot of things I did not know. Angola is a country in which many NGOs were present, also all five operative sections of MSF, but as the civil war had ended in 2002, the government of this country full of oil, diamonds, fish and fertile grounds (and unfortunately, landmines) was now supposed to care for its population on its own accounts. Many organizations had left, and even MSF is expected to leave in the future.
After an absence of the disease for 10 years, Angola was hit in February 2006 by a cholera epidemic. Cholera treatment centres (CTC) were set up in different parts of the country with help of MSF
including in the city of Lubango, and were handed over in July to the local authorities when the number of patients declined. However in October 2006 numbers of patients increased again and MSF-CH returned to help in Lubango.
In November the MSF staff in the CTC in Lubango noted a sudden increase in patients with bloody diarrhoea with a case fatality of about 50%.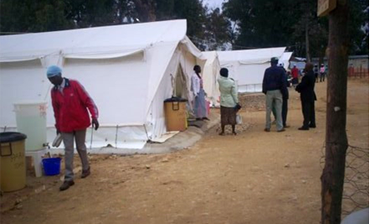 Once the centre got more organized, including an isolation tent, good 24h care and treatment with ciprofloxacine for any patient with bloody diarrhoea, the case fatality dropped, both for cholera patients and for patients with bloody diarrhoea. Nevertheless MSF-CH wanted to investigate the causes of this rise in bloody diarrhoea and prevent this disease from returning, so Epicentre w as invited to assist in surveillance and investigate the outbreak.
We got a plane the next day to the city of Lubango. When I arrived another trainee and my Epicentre supervisor had already done great amounts of work organizing surveillance, data entry and sampling of patients. Of the patients with bloody diarrhoea in November (which were suspected to have had Shigellosis), none had been lab confirmed due to logistical problems. The office of the EPI-team was full of patient files, each day about 50 new patients entered the CTC and the clinical information of every patient that left the centre were entered in a database. While entering data, I was shocked to see the numbers of vomits and diarrhoea patients had per day and the amounts of fluids they received.
Already on my first day I could visit the CTC (Cholera Treatment Centres). Upon entering the terrain they spray the soles of your shoes and you have to wash your hands with a chlorine solution.
The CTC consisted of several tents, one for triage and then tents for children, women, and men in different stages of dehydration. The beds in the tents had a special design with a hole and a bucket with chlorine underneath to collect diarrhoea and a bucket next to the bed for vomit.
Every tent had a supply of ORS solution (Oral Dehydration Salts) which was supplied in large amounts to the patients. The logistical team organized washing and cleaning of blankets and constantly inspected hygienic measures on the terrain. Both local and expat nurses and doctors checked on patients and their dehydration status. I thought a severely dehydrated patient a quite shocking sight, with almost absent skin turgor or and sunken eyes. Luckily in a few hours of rehydration treatment these patients could return to reasonably healthy looking persons.
Apart from assisting in surveillance of bloody diarrhoea, interviewing patients, taking stool samples and data entry my task was to gather community data on bloody diarrhoea. The outbreak of bloody diarrhoea in the CTC might have been part of a community wide outbreak.
So on my second day I set down with the statistical department of the general hospital and in the following days I visited also the paediatric hospital, the local officer of the World Health Organisation (WHO),the civil registry and nine health posts where I copied data from the patient registers. I was surprised by the availability of all these registers that were never computerized, but sometimes better kept then the records in some European countries and also about the willingness of local services to assist in the investigation. I was never denied any information. On these visits I sometimes went with the field team of MSF to the different areas of the city to make sure that local health posts had sufficient supplies of ORS and that they had telephone numbers of the CTC ambulance to pick up cholera patients.
We drove in a minibus or jeep with a professional driver mostly over dirt roads.
These trips were also for gathering surveillance data on cholera and inspecting local hygienic conditions.
I was amazed at how green the country was, every few houses have a separate water source. People were advised about treating water for consumption and maintaining water sources. I informed about patients with bloody diarrhoea.
The landscape was beautiful but the living conditions of the people were very poor. Sometimes they hardly had pots to boil water in, there were no latrines, residual water from (beer) factories drained in the fields.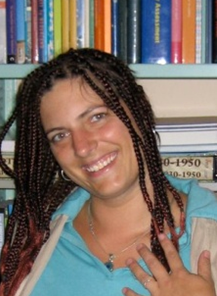 My Portuguese was not always useful as many people only spoke local languages. We had interpreters for this purpose and they were also useful in explaining local habits. Especially shocking was the wide spread alcoholism. Health posts had to be visited in the morning, as at noon some staff members could be drunk. People could be seen from a young age, lying around crossroads where local brewed alcohol (macao) was sold. This drink was sold from buckets and the content did not look very clean, so we advised about the use of safe water for the making of this drink.
The MSF team was fantastic to work with. There were people from many different countries (e.g. France, Italy, US, Canada, Argentina, Lebanon) with functions like 'watsan' 'fieldco' and 'log.' I w as amazed not to find any Swiss on an MSF-Swiss mission. Some people had already ample experience in missions, for others, like me it was the first time. On Christmas day we missed our families and friends but nevertheless we managed to have a great Christmas dinner cooked by the Italians and we had a great New Year party, outside, under the stars with music and dance from many different countries.
And before I knew it, three weeks had passed and I was back in Madrid. Now as I am correcting the last tables and graphs in the report, Angola seems already a long time ago. I was a bit disappointed that the community data I collected did suggest the existence of a community wide outbreak, but due to the limitations of the study I could not confirm it.
Still I learned a lot, about missions, working with MSF and about how to obtain data in a different country. Luckily the cholera outbreak has stopped now, and I hope that the disease will stay away when the rainy season starts again.
I will never forget Angola or the look of a cholera patient.