I left my Heart in Guyana...
By Nathalie El Omeiri (EPIET cohort 12)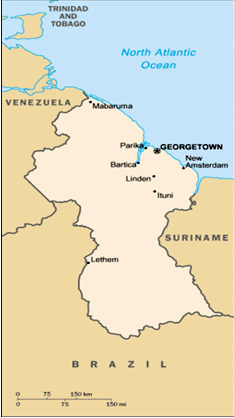 Guyana
Guyana, commonly known among EPIETs as "Angie's homeland", is an Amerindian word for "Land of many waters". It is the only English-speaking country in South America and yes, people do drive on the left here. North of the equator, but in the tropics and on the Atlantic Ocean, Guyana is bordered to the east by Suriname, to the south and  southwest by Brazil and to the west by Venezuela.
It is the third smallest country in South America, yet with an area of 264 000 km 2 it is some 768 000 inhabitants are concentrated on the coast, leaving the huge hinterland sparsely occupied. The country is characterized by vast rain forests (impressive view from the plane), which cover about two-thirds of the land, dissected by numerous rivers, creeks and waterfalls. I had the chance to see Kaieteur Falls while I w as there – the highest single-drop waterfall in the world, five times the height of Niagara Falls! Lying down on the warm ground, looking down into that deep gorge (of 251 m) was a breath-taking experience. Remember Guyana inspired Sir Arthur Conan Doyle's 1912 novel The Lost World! But perhaps the prize-winning rum and 'Demerarasugar' will sound more familiar… Another great memory from m y visit is of crossing the Essequibo River on a speedboat for the launching of DOTS TB programme in another region. The trip was worth a million roller coaster rides with its muddy "café con leche" water splashing in our faces and scenery of little islands around conferring an indescribable feeling…
They say in Guyana that if you drink creek water, you're likely to come back! So running out of time, on my last week-end, I drank from Kaieteur Falls – not a creek but black river water; I hoped it counted… The black water is fascinating, like cola or black tea, the colour results from the leaching of tannins from decaying leaves of vegetation.
In spite of being on the South American continent, Guyana is culturally very Caribbean and not Latin at all. And who says 'Caribbean' says 'music', of course! Great music everywhere, all the time…
Although you might get tired after a while waking up to the neighbours' radio at 5h30, including Sundays when you have a church next door with a 6h30 gospel session!
I was amazed at the incredible mix of people there: African, Indian, Chinese, European, Amerindian, Portuguese and "mixed"! (Don't ask why the Portuguese are considered a separate ethnic group from any other Europeans… it's complicated!) The food is delicious (best in the Caribbean), reflecting the ethnic make-up of the country: from hearty curry and roti, chow mein and cook-up rice, to pepper pot and garlic pork. Staples are rice and cassava.
European CWC support was also provided through epidemiologists working alongside national epidemiologists during the games: Dr Graham Fraser from London's Health Protection Agency was based in Jamaica, Jurgita Bagdonaite was in Grenada (EPIET cohort 11), while m y supervisor Dr Alicia Barrasa and I were sent to Guyana by the Spanish FETP.
West Indies cricketer and Guyanese Ramnaresh Sarwan signs the oversized AIDS campaign poster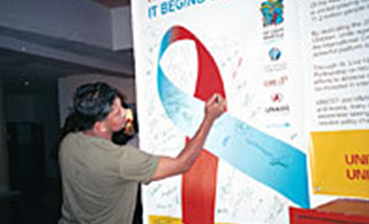 The CWC is a prestigious cricket event that takes place every four years; this year it was hosted across the Caribbean in nine countries from 1 March – 28 April for a total of 51 matches, with 16 international teams participating. 
The exceptional reach of broadcast media in the Caribbean offered a unique opportunity to pass public health messages during the CWC.
Throughout CWC 2007, many of the world's leading cricketers, match referees and others visited the Caribbean to see facilities linked to HIV/AIDS education and to show their support for HIV awareness-raising programmes, as part of the alliance between the ICC, UNAIDS, UNICEF and the Caribbean Broadcast Media.
In Georgetown, I saw video profiles of players talking about the impact of AIDS on children, a quiz entitled "Know as many facts about HIV/AIDS as about cricket?", banners and posters.
Mass gathering surveillance system
In Guyana, a mass gathering surveillance system was implemented at sites associated with the cricket matches.
I was in charge of reporting to CAREC on a daily basis: entering data onto the online database, analysing for aberrations, and providing information on clusters or unusual events. I was on call with an outbreak investigation team for the 2 weeks of matches in Georgetown. Although – fortunately – there were no health threats at all, the list of what I have learned is endless, as I was involved in all other activities of the surveillance unit of the ministry of health! It would take another column to tell you all about it. Being there for such a long time, I seized the opportunity of providing some epi training (including the famous Giardiasis case study!), presenting and explaining details of m y tasks, and leaving a very detailed protocol for those w ho would take over weekly syndromic surveillance analysis after I left.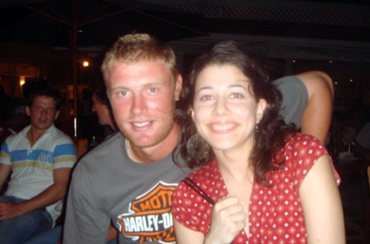 Fantastic experience
I made some great friends in Guyana, had many nights out despite crazy work schedules and now have some truly life-long memories.
Last but not least, I had the great pleasure of being Angie's first visitor in Barbados, and was able to tell her face-to-face that her country is truly
F-A-N-T-A-S-T-I-C!